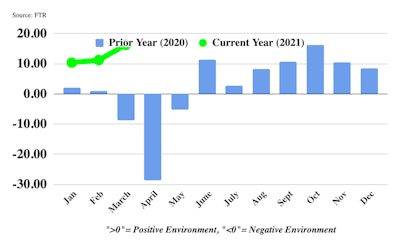 FTR's Trucking Conditions Index (TCI) for March, as reported in FTR's May Trucking Update, surged to a record high of 16.27, up about five points from February. The prior record was 16.17, set in October 2020.
According to FTR, contributions from freight volume, rates and capacity utilization all strengthened in March.
"March's record TCI was especially remarkable considering that the index's fuel component – the month's lone weakness – was the most negative it had been since before the Great Recession," said Avery Vise, FTR's vice president of trucking. "Robust demand and tight capacity no doubt are big operational headaches for many trucking operations, but those factors are supporting the best market conditions ever for carriers. We have yet to see signs of a loosening in driver capacity, so the near-term outlook is strong."
According to ACT's monthly Freight Forecast, ACT Research's Vice President and Senior Analyst Tim Denoyer said supply side constraints will keep the truckload market "very tight" in the near-term, as freight demand remains exceptionally strong, "so the peak in spot markets remains ahead of us," he added. "The semiconductor shortages impacting Class 8 tractor supply don't have quick fixes, and neither do the structural factors inhibiting driver supply, such as demographics and drug testing."
FTR expects the TCI to remain in positive double-digit territory at least through the third quarter, with the possibility of one or more record readings.
"A longer-term risk is that extraordinary levels of consumption – especially of durable goods – set the stage for softness in 2022 and beyond," Vise said. "In a sense, therefore, today's supply chain shortages might prove beneficial by stretching out the period of solid consumer demand."
"This is perhaps the strongest freight market ever for carriers and the most challenging ever for shippers," Denoyer added. "But in our view, the industry is no less cyclical, and in our three-year freight volume and rate forecast horizon, we explore the timing and magnitude of eventual rate relief for shippers."