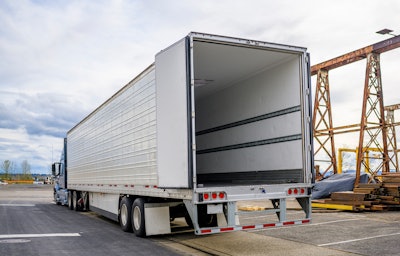 U.S. net trailer orders for March climbed 6.4% month-over-month, reaching 27,400 units, according to preliminary data compiled by FTR.
A few large dry van fleets increased their 2021 requirements, noted FTR Vice President of Commercial Vehicles Don Ake, while flatbed and other vocation trailer orders remained steady. Trailer orders for the past 12 months total 346,000.
While orders are expected to seasonally moderate in the coming months, several van OEMs are nearly booked solid and order boards for 2022 have not yet opened due to materials and component costs uncertainty. Ake said there have been reports of shortages of flatbed trailers in some regions as the industrial and housing sectors improve.
[Related: Truck orders strong as OEMs battle production slowdowns]
"Pressure is building up in the trailer market. Backlogs are at record levels and fleets desperately need more trailers," he said. "Capacity is very tight in some areas of the country and spot rates remain near record highs."
Production output is expected to have improved in March and orders beat expectations, Ake said, adding the supply chain continues to present challenges.
"We expect the supply chain to be better, but not perfect, in the second half of the year, allowing build rates to rise," he said.
[Related: Truck, engine OEMs press Biden to alleviate chip shortage amid soaring market]
According to ACT Research, books last month received 33,400 orders before accounting for cancellations, up 18% versus February and 136% better than the previous March.
March's net order intake was 252% higher than March 2020 yet Frank Maly, director of CV transportation analysis and research for ACT Research, noted "we're now beginning to enter a period where, because of the unprecedented COVID-related impact in 2020, year-over-year comparisons will become much less valuable in determining the strength of the market."
Much like truck builds, trailer manufacturers also face supply chain obstacles, notably unpredictable building material pricing.
"While one OEM has publicly stated it is 'pausing' order acceptance until the company can better determine longer-term materials costs, others continue to negotiate and book orders," Maly said. "With many large fleets already on the orderboard, perhaps the next few months will result in a bit more stable order placement, until OEMs generate further production rate improvements."