Trucking news and briefs for Wednesday, June 23, 2021:
ATA Truck Tonnage Index falls for second straight month
The American Trucking Associations' advanced seasonally adjusted For-Hire Truck Tonnage Index decreased 0.7% in May after falling 0.6% in April. The index was 113.7 in May, compared to 114.5 in April.
"Tonnage, despite falling slightly over the last two months, remains well above the lows of last year," said ATA Chief Economist Bob Costello. "This is no small deal considering that truck tonnage fell significantly less than many other indicators during the depths of the pandemic in the spring of 2020."
Costello noted that gasoline shipments are helping keep tonnage elevated as demand for travel increases.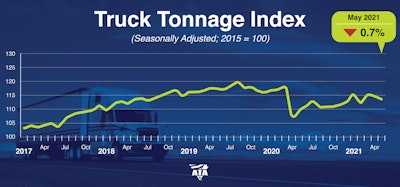 "I'm also expecting retail freight to remain robust as inventories are at historic lows," he said. "As retail stocks are rebuilt, it will boost freight. As has been the case for some time, trucking's biggest challenges are not on the demand side, but on the supply side, including difficulty finding qualified drivers."
Compared with May 2020, the seasonally adjusted index rose 3.7%, which was preceded by a 6.7% year-over-year jump in April. Year-to-date, compared with the same five months in 2020, tonnage is up 0.4%.
The not seasonally adjusted index, which represents the change in tonnage actually hauled by the fleets before any seasonal adjustment, equaled 113.8 in May, 0.2% below the April level (114). ATA's For-Hire Truck Tonnage Index is dominated by contract freight as opposed to spot market freight.
Trucking serves as a barometer of the U.S. economy, representing 72.5% of tonnage carried by all modes of domestic freight transportation, including manufactured and retail goods. Motor carriers collected $791.7 billion, or 80.4% of total revenue earned by all transport modes.
Minneapolis considers ban on overnight truck parking
The Minnesota Trucking Association on Monday, June 21, said it opposes a truck parking ban proposed by the city of Minneapolis. An ordinance regulating truck parking in the city of more than 420,000 people will be heard by the Transportation and Public Works Committee Wednesday, June 23, at 1:30 p.m.
"The Minnesota Trucking Association strongly opposes the truck parking ban under consideration by the city of Minneapolis," said MTA President John Hausladen in a written statement. "If approved, this ban would force truck drivers to park outside of the city, which would impede on-time deliveries and disrupt daily commerce."
The proposed ban says all vehicles that weigh or have a carrying capacity over 26,000 pounds would be prohibited from parking on any street unless one of the following criteria is met:
The truck is actively engaged in loading, unloading or providing a service.
The truck is stopped or parked at the direction of a police officer or traffic control agent.
The truck is in a zone with signage authorizing parking vehicles of increased weights.
Citations for violation of the ordinance could be written to the driver, lessee or owner of the vehicle. The fine for violation of the ordinance would initially be $100 through Dec. 31, 2022. Thereafter, the fine would be $250.
Hausladen noted that many trucks parked overnight in the city are independent contractors from the area.
"These small businesses, many of whom are minority owned, would have no viable alternative for overnight parking," he said. "This ban could effectively force many of these hard-working residents to choose between their livelihood and the place they call home. With an existing truck driver shortage we simply cannot afford to have qualified drivers leave the industry."
Hausladen called on the city to look for ways to provide more safe parking for truckers rather than taking parking away.
"We call on the Minneapolis City Council to craft a fundamentally fair policy that balances parking management concerns with the essential services truck drivers provide," he said. "We would welcome the opportunity to work with Minneapolis leaders to develop a smart solution."
MTA urged its member fleets and their drivers to testify at the hearing.
Pricing continues record-setting trend in for-hire trucking
The latest release of ACT Research's For-Hire Trucking Index, with May data, showed a slowing in volumes, strength in pricing, and a sharp decline in the supply-demand balance.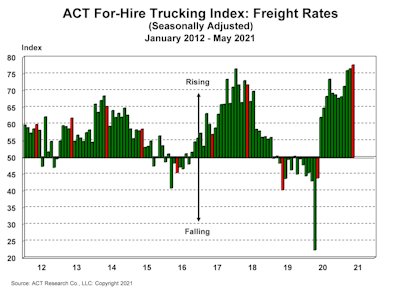 ACT found that a drop in load-to-truck rations on DAT during May, combined with a softening of consumer-related factors, led to the lowest Volume Index reading since the start of the pandemic, ACT President and Senior Analyst Kenny Vieth said.
Vieth noted, however, that despite the drop in volumes, "we continue to witness the strongest rate environment in the survey's history, with capacity re-engagement extraordinarily challenging as a result of driver and manufacturing constraints limiting the supply response."
Regarding the supply-demand balance, Vieth said, "The pullback in the freight gauge and a tough seasonal factor on top of that were contributing factors in the sharp decline of the Supply-Demand Balance reading, which dropped 9ppts month-over-month to a 13-month low 50.6 in May. Strong freight visibility suggests this metric will rebound from here as rebalancing continues into the medium-term."
Trucker Tools acquired by ASG
ASG, a portfolio company of Alpine Investors, has acquired Trucker Tools, a digital freight management platform used by hundreds of freight brokers to connect with small fleets and owner-operators for predictive freight matching, automated booking, GPS-based visibility and digital workflows.
ASG has other properties in the transportation sector, and the freight brokerage market is "ripe for innovative companies," said Jesse Buckingham, who joins Trucker Tools from ASG as chief revenue officer.
In the last 5 to 7 years, a number of well-funded digital freight brokers have tried to disintermediate the transportation industry by developing freight matching technology that connects shippers directly with carriers, but their impact "hasn't been quite as significant as many were expecting," he added. "Brokers are here to stay."
Freight brokers that are trying to innovate while honoring their relationships with carriers have created space for technology providers, like Trucker Tools, to help with digital transformation, he explained. "We are excited about Trucker Tools as a leader in that space."
ASG has made 35 acquisitions to date and specializes in helping software-as-a-service (SaaS) companies grow and build out reliable, resilient software services.
"Their philosophy, mindset and approach complement Trucker Tools culture and values, and are well-aligned with our laser-focus on superior customer engagement and product performance," said Prasad Gollapalli, founder and CEO of Trucker Tools.
Headquartered in Reston, Virginia, Trucker Tools was founded in 2013. About 300 freight brokers are on the platform today, along with almost 1.4 million truckers and 170,000 small fleet operators using the mobile booking and tracking app.
Gollapalli added that Trucker Tools plans to accelerate its software development under the new ownership. "There are a lot of things we have been wanting to do in this space," he said. "We are still faster than most companies, but we'd like to take it to the next level. With this partnership, we will be able to do that."
Trucker Tools and ASG did not announce financial terms of the acquisition.