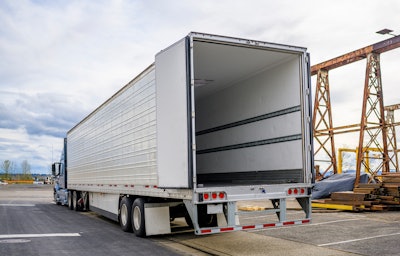 Trailer manufacturers' inability to source components and building materials, coupled with price volatility, spurred a 39% drop in orders last month versus April, according to preliminary data from ACT Research.
The sequential decline in net orders was no surprise, according to ACT Research Director of Commercial Vehicle Transportation Analysis and Research Frank Maly, "as the impact of supply and staffing headwinds overcame continued strong market demand."
May's weak order activity, according to FTR Vice President of Commercial Vehicles Don Ake, reflects that OEMs are essentially booked for the year and reluctant to quote trailers for 2022 delivery due to a spike in commodity prices and other costs.
"Some fleets may be unwilling to extend their commitments, as well," Maly added. "The combination of those concerns generates headwinds to additional order placement, and accentuates the seasonal softness that normally occurs in late spring and early summer."
While early reports indicate that OEMs did improve production rates in May, Maly said the increase was not as strong as they would prefer. "Until meaningful increases in build rates can be attained," he said, "expect order acceptance by OEMs to remain somewhat restrained."
"The market is in a strange place right now in that the bucket for 2021 orders is almost full, but the bucket in 2022 is essentially empty," Ake added. "We expect abnormally low activity until the 2022 order boards are opened. At that point, orders should shoot back up to near-record levels.
Freight growth remains robust, and Ake said fleets continue to need more trailers than can be produced in the short-term.
"The supply chain situation improved some in May, but the industry is still scrambling to catch up," he said. "The environment is expected to improve in the second half of the year but will still impact the industry well into 2022."