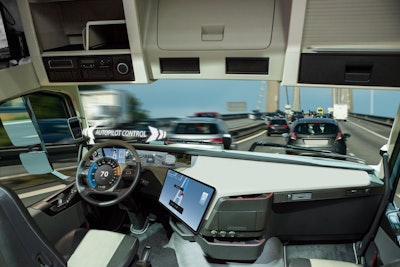 The trucking industry being mired in a driver shortage has raised the level of interest in artificial intelligence-enabled trucks with autonomous capabilities. Owners and executives of motor carriers see untapped potential to improve operating efficiencies, safety and productivity.
Several technology companies have been testing self-driving trucks in real-world conditions for several years. Drivers are in the vehicles now, but the switch could flip to full autonomous mode as early as 2023, experts say.
With the future of self-driving trucks coming into sharper focus, technology companies are working on applications to digitize the full transportation ecosystem to automate steps, like inspecting vehicles and exchanging paperwork, which until now have required human involvement.
The final hurdles
One of the frontrunners in the race to full, scalable deployment of autonomous technology is Plus. In 2016 the company started working on a driverless system that would meet the SAE definition of Level 4 autonomy.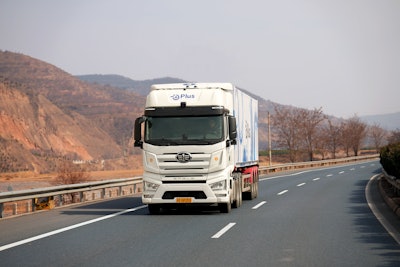 It didn't take long. In 2018 Plus completed a pilot test of its new system at one of the world's largest ocean ports in Qingdao, China, without a driver in the seat.
"The truck was able to fully operate in that scenario," said David Liu, chief executive and co-founder of Plus. Before starting the company, Liu built several tech companies and has a Ph.D. in electrical engineering.
Plus is heavily capitalized to see its technology through to the finish line. The company has raised $400 million since last year and is looking at going public via stock merger in the next two months, which will bring in another $500 million, he said.
Liu explained that Plus and other developers are working to make progress in software and hardware but are mostly waiting for regulations to catch up with technology for trucks to operate in full-autonomous mode on public roads.
More testing and validation of software is needed to address the various scenarios and operating conditions that trucks will encounter, he said. Similarly, vehicles need to have more hardware redundancy and testing of systems, like steering and braking, to ensure they can react safely if they experience system failures.
The biggest hurdle could be waiting for regulations and social acceptance of autonomous vehicles, Liu said, but "we have been seeing a lot of progress over the past few years."
Liu said his best guess timeline for clearing these three hurdles is 2024. By then, Liu envisions Plus will have accumulated billions of miles for testing and analysis from thousands of trucks with the technology deployed in real-world applications.
[Related: Who's set to win Big Tech's 'insanely hot' race to self-driving trucks?]
When the system is ready for fleets to switch to full-autonomous mode, the most likely model will be for fleets to run driverless trucks between depots that are close to the highway system, and then use drivers to complete the last leg at both ends, he said.
Plus has a product in the market today, PlusDrive, that any fleet can install on trucks. Drivers engage the system voluntarily for lane keeping, adaptive cruise control, stop-and-go traffic, merging, lane changes and other automated features. The product makes trucks safer and more comfortable to drive. It also makes them up to 10% more fuel efficient, Liu said.
Amazon is one of Plus's largest fleet customers in the United States. The company also has a large presence in China, where one of the country's largest truck manufacturers, FAW, is equipping vehicles with PlusDrive from the factory.
Working with OEMs
Aftermarket technology suppliers are out in front of original equipment manufacturers (OEMs) in developing autonomous driving systems. Even so, OEMs see autonomy as one of their most important future endeavors, Liu said.
Truck makers have internal development efforts and are working with companies like Waymo, TuSimple and Plus.
"For us it is important to be part of this transformation and, together with our customers and partners, be leading in building up the new ecosystem," said Sasko Cuklev, head of on-road solutions, Volvo Group.
"Our belief is that autonomous solutions will be a complement to the transport system of today," he continued. "It will be implemented where there is a purpose and where it makes sense, meaning it will be implemented in specific applications, sites, routes or lanes. How exactly the future ecosystem and logistics value chain will look like when autonomous solutions have been introduced is difficult to say at this stage."
One of the most important milestones for self-driving technology is to reduce power consumption since massive inputs are captured by the vehicle's network of sensors, radar and cameras.
Several years ago, the first prototypes of autonomous vehicles required an entire rack of computers — a mobile data center — in the vehicle to handle processing needs. Besides drawing a lot of power in the range of 2,000 watts, the equipment was susceptible to damage from vibration and temperature, said Micah Snodgrass, a systems engineer and technical director at Crystal Group, a designer and manufacturer of rugged computer and electronic hardware working with self-driving truck company TuSimple and robotics developers on autonomous trucks.
The company has been working with TuSimple to develop software that runs on 75% less power than first-generation systems, he said. Crystal Group is also working with OEMs to tie into a vehicle's cooling system to run thumb-sized hoses to the vehicle's computer system.
"We also work with other companies that prefer to keep things quieter," Snodgrass said. One of its customers is a truck OEM.
Plus has been able to reduce the power consumption of its industrial strength onboard computers to 128 watts, Liu said. By comparison, a typical laptop uses 100 watts.
Driverless inspections
A new process for vehicle inspections is one of many regulations that need to be in place before driverless trucks hit the highway.
Drivewyze, which provides the PreClear weigh station bypass program, is currently working on a pilot project with the Texas DOT for inspecting autonomous commercial vehicles (ACMVs).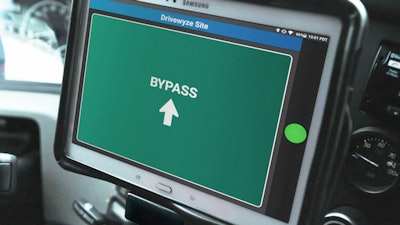 Sara Steele, product manager and director of compliance for Drivewyze, is working with the Texas DOT and is also the secretary of the CVSA Enforcement and Industry Modernization committee.
The committee, she said, is discussing a framework of how enforcement and ACMVs will interact, including inspections, and what needs to be included in an inspection. The CVSA committee is planning on having the framework completed in a few months in anticipation of driverless trucks coming in 2023, she noted.
One of the items likely to be included is that, before each dispatch, an autonomous vehicle must have a "very thorough" pre-trip inspection completed by a CVSA-trained individual who works for the carrier. The inspection is to be redone every 24 hours to ensure that all AV systems are working, Steele said.
Results of that inspection will be passed electronically from the vehicle to weigh station facilities while the vehicle is in motion. CVSA is not yet clear on what exactly will need to be inspected or checked, she said, but everything should be operating as expected.
Paperless deliveries
Bills of lading and proof-of-delivery receipts used by shippers and carriers to document exchange of custody will also have to be digitized to create a self-driving ecosystem.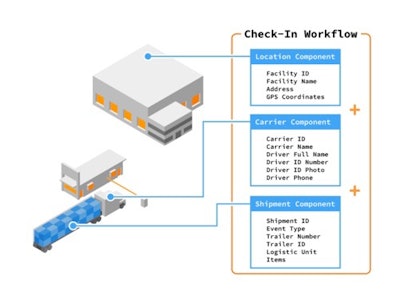 Vector is one of several companies that develop cloud-based document management systems. The company has a digital exchange process that works like Google Docs to share and edit files in real time.
"We are bringing that paradigm to the pickup and delivery process," said Will Chu, co-founder and chief executive of Vector. Shippers are using the platform to create "fast pass" lanes for carriers at their facilities, he explained.
Instead of waiting in line at a facility, drivers can use their mobile device to check in ahead of time. By capturing location data, the system knows who the truck driver is.
Similarly, if an autonomous vehicle arrived at a facility to load or unload, the truck could submit data ahead of time to check in at the guard shack, he said.
Vector is participating in a consortium with shippers and technology companies to come up with standards for these paperless, electronic exchanges. "We have it working right now," Chu said.
Shippers in the consortium include Coca Cola, Clorox, Land O'Lakes and Home Depot.