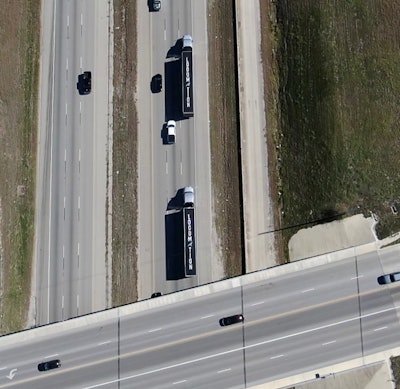 Trucking news and briefs for Friday, June 11, 2021:
PGT Trucking set to tech platooning technology
PGT Trucking Inc. has inked a deal with autonomous truck technology startup Locomation to test its platooning technology.
Locomation will initially provide a two-truck convoy with safety staff and work alongside the Aliquippa, Pennsylvania-based PGT Trucking operations team.
During the eight-year agreement, PGT Trucking (CCJ Top 250, No. 103) will deploy 1,000 Autonomous Relay Convoy (ARC) systems, which enables one driver to pilot a lead truck equipped with technology augmentation while a follower truck operates in tandem through Locomation's fully autonomous system, allowing the follower driver to log off and rest while the truck is in motion.
The trucks are electronically tethered via the ARC system so they move together. Periodically, the trucks swap places to allow each driver to take turns leading the convoy and resting.
The agreement covers more than 30 separate ARC segments. Each ARC segment is engineered for maximum yield by Locomation's freight network optimization team headed by former Ryder System Director Tom Kroswek, who currently serves as Locomation's vice president of strategy and business development.
At full commercialization, Locomation's autonomous vehicle technology is expected to produce an estimated 30% reduction in operating cost per mile, including an 8% reduction in fuel expense that removes over 40 metric tons of carbon dioxide from the air per convoy annually.
The world's first technology platform to offer human-guided autonomous truck convoying today announced a multi-year agreement with a leader in flatbed transportation, to deploy Locomation autonomous truck technology for use on PGT Trucking routes.
PGT Trucking is a multi-service transportation firm offering flatbed, dedicated, international and specialized services. PGT operates in excess of 1,000 power units and over 1,500 trailers nationwide and is headquartered in Aliquippa, PA.
"Part of PGT's mission is to grow innovatively by improving efficiencies through the use of technology," said Gregg Troian, president of PGT Trucking. "As PGT Trucking celebrates its 40th anniversary, this partnership allows us to stay abreast of progressive transportation advancements as we continue to evolve our fleet as the premier flatbed carrier. We expect this technology to significantly reduce costs and improve freight efficiency, as well as save energy and improve safety."
ATA forms new committee focused on clean energy
The American Trucking Associations is forming a new Climate and Clean Energy Advisory Committee to help shape the association's policies and actions on environmental issues.
The newly formed CEAC will address a number of topics ranging from fuels, carbon pricing, and zero emission vehicle development that have the potential to have significant impacts on the trucking industry.
The committee will focus its work on four areas initially: research and development opportunities, infrastructure resiliency, zero emission vehicle fueling infrastructure and environmental justice, and will continue to advise ATA on its broad-based advocacy platform so the association can remain a leader on these critical issues.
"The trucking industry has a strong, positive record on addressing climate change – from our broad support for programs like SmartWay to our backing of historic and first-ever greenhouse gas standards for new trucks. ATA has been a leader in making sure our industry is at the table and delivering results on these issues," said ATA President and CEO Chris Spear. "Today, with even more attention being paid to issues impacting our climate and clean energy in Washington and in state capitals, we are creating an advisory committee to help guide our future direction and actions."
ATA will soon announce members and leadership for the committee.
Volvo breaks ground on new Vehicle Propulsion Lab
Volvo Group broke ground Wednesday on a $33 million expansion to its powertrain research and development site in Hagerstown, Maryland, for the construction of a new, state-of-the-art Vehicle Propulsion Lab (VPL).
Volvo's VPL will be the first facility in North America to allow comprehensive testing of current and future products for Volvo Trucks, Mack Trucks, Prevost and Volvo Bus to meet evolving government regulations and ensure high performance on North American roadways, the company says.
Housed under one roof, the lab will consist of two environmental chambers. One chamber will have a chassis dyno capable of emissions measurements and simulating extreme-weather and altitude conditions. The second will offer testing of fully operative vehicles, including highway and vocational trucks, as well as coach buses, for starting in a variety of weather conditions.
"The Hagerstown powertrain technology site plays a significant role in the Volvo Group's efforts to offer advanced transportation solutions that meet customers' needs today and down the road," said Lars Stenqvist, chief technology officer of the Volvo Group. "The all-new VPL, slated to open in the second quarter of 2023, will enable us the ability to more quickly develop and test battery-electric and hydrogen-based fuel cell solutions, as well as internal combustion engines, which will be powered by fossil-free fuels in the future, for our Class 8 trucks and coach buses."
FFE opens new Missouri facility
Frozen Food Express (FFE) Transportation Services is expanding its business with a new transportation and logistics facility in Butler, Missouri. The company is investing nearly $6 million in Butler and is creating nearly 60 new jobs in the region.
Company executives say they selected Butler, Missouri, for their newest transportation and logistics facility due to its robust workforce, friendly business climate, and the safety of the community.
"We are very excited about expanding our operation into the Butler region," said Jim Richards, President and CEO of FFE Transportation. "We look forward to working closely with the community and being a great partner."
Continental Express raising driver pay
Continental Express is increasing pay for all company drivers, effective immediately. This is the carrier's second driver pay raise within the last year.
The new package includes a 2 cents per mile increase for over-the-road drivers, a 1 cpm increase for dedicated route drivers, and an additional $1 per hour for all local and hourly-paid drivers. The raise applies to current drivers and the starting wage for new drivers, bringing the annual start pay to $86,000, the fleet says.
In October 2020, Continental's OTR drivers saw a 3 cpm pay increase, and dedicated and local driver raises came in January.