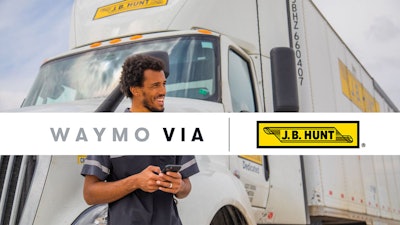 Photo courtesy J.B. Hunt
J.B. Hunt Transport Services Inc., and Waymo – the self-driving unit of Google-parent Alphabet – announced Thursday a partnership that will see the Lowell, Arkansas-based carrier move freight autonomously in Texas for one of its customers.
Using the Waymo Via platform – the company's autonomous Class 8 trucking unit powered by the Waymo Driver, the company's network of software and suite of systems – J.B. Hunt (CCJ Top 250, No. 3) will haul freight between facilities in Houston and Fort Worth. The stretch along Interstate 45 will be completed using Level 4 autonomous driving technology supervised onboard by Waymo autonomous specialists, a commercially licensed driver and a software technician, each of which will monitor the Waymo Driver's operations throughout the runs.
[Related: Daimler Trucks, Waymo partner on autonomous SAE Level 4 trucks]
The two companies have worked closely on operational and market studies that explored best practices for regular maintenance, what future facility layouts will look like, and which lanes are best suited for autonomous driving technology, but J.B. Hunt Chief Sustainability Officer and Executive Vice President Craig Harper noted that the self-driving run through the Lone Star State will be one of the company's first opportunities to collect data and feedback on customer freight moved with a Class 8 tractor operating at this level of autonomy.
"While we believe there will be a need for highly skilled, professional drivers for many years to come, it is important for J.B. Hunt as an industry leader to be involved early in the development of advanced autonomous technologies and driving systems to ensure that their implementation will improve efficiency while enhancing safety," he added.
Through the collaboration, the two companies expect to explore how fleets can integrate autonomous driving technology to enhance safety and efficiency. The trial run will also help J.B. Hunt and Waymo define how they can continue working together long-term.
Charlie Jatt, head of commercialization for trucking at Waymo, said he was "thrilled" to collaborate with J.B. Hunt, "as we advance and commercialize the Waymo Driver. Our teams share an innovative and safety-first mindset as well as a deep appreciation for the potential benefits of autonomous driving technology in trucking. It's companies and relationships like these that will make this technology a commercial reality in the coming years."
Over more than a decade, Waymo has logged more than 20 million autonomous miles on public roads across 10 U.S. states, and 20 billion miles in simulation.
Waymo last summer began mapping Interstates in Texas and New Mexico in its lead up to testing self-driving semis. The company's Chrysler Pacificas were trailed by its unloaded big rigs with a driver on board.