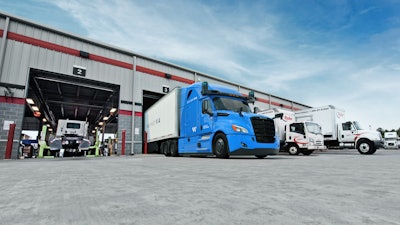 Waymo announced Wednesday a partnership with Ryder for fleet management services, including fleet maintenance, inspections, and roadside assistance, across all of its Waymo Via hubs and testing sites. Leaning on Ryder's network of more than 500 facilities for standardized fleet maintenance across one network, Waymo said, will "enable us to scale efficiently."
With Ryder, Waymo said it is "developing first-of-their-kind best practices for autonomous truck maintenance that will maximize vehicle uptime and reliability and ensure a seamless and efficient experience for our customers."
Over the course of a decade, Waymo has driven more than 20 million miles on public roads across 10 U.S. states and 20 billion miles in simulation.
Ryder will conduct regularly scheduled preventive maintenance and as-needed incidental maintenance, and the two companies will work together to refine and evolve guidelines for Ryder's technicians' maintenance practices on Waymo's unique autonomously driven vehicles. "Longer term, we'll be able to optimize the performance of our autonomous trucks by combining Ryder's deep maintenance expertise and Waymo's proprietary AV fleet data to create solutions tailored for Waymo's technology," Waymo said.
The two companies will partner on servicing and evolving maintenance practices for autonomously driven trucks across Waymo Via sites in Texas, Arizona, California, Michigan, and Ohio, as well as roadside service between hubs. Over time, the companies see opportunity to expand collaboration to accelerate the broad deployment of autonomous trucks.
Ryder Chief Marketing Officer and Head of New Product Development for Karen Jones said, while the partnership initially focuses on fleet maintenance, "we see many opportunities to collaborate on autonomous trucking operations in order to successfully deploy these trucks at scale."
Ryder last month announced a similar tie-up with autonomous trucking firm TuSimple, which would leverage select Ryder fleet maintenance facilities to serve as terminals on TuSimple's Autonomous Freight Network (AFN). Through the partnership, TuSimple and Ryder will work together to identify existing Ryder facilities to serve as terminals along the TuSimple AFN.
Waymo plans new 9-acre site in South Dallas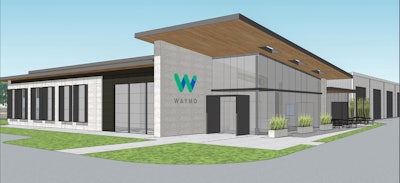 Waymo also announced Wednesday it plans to build a dedicated trucking hub in South Dallas as part of an effort to grow its footprint in Texas and continue driving across interstates 10, 20, and 45. In consultation with Ryder, the 9-acre hub will be built from the ground up for Waymo Via and its autonomous driving operations and will serve as the company's primary operations center in Texas.
"Already, we've collaborated on the layout and design of Waymo's new Dallas facility to ensure it's optimized for serviceability of trucks and for the transfer hub model they plan to pursue in the near future," Jones said. "Autonomous Class 8 technology is quickly taking hold, and Ryder is poised to become a leader – not only in servicing trucks but also in managing the unique logistics of autonomous operations."
Designed for commercial use with carrier partners, the Waymo facility will be able to accommodate hundreds of trucks and personnel as Waymo expands its presence in the region and will enable increasingly large and complex testing needs on our path to fully autonomous operations.
"This hub will not only bolster our operations in Texas but is also well-suited to support long haul routes across the Southwest and connect with our Phoenix operations center," the company said.