Trucking news and briefs for Wednesday, Sept. 15, 2021:
Aurora unveils first self-driving VNL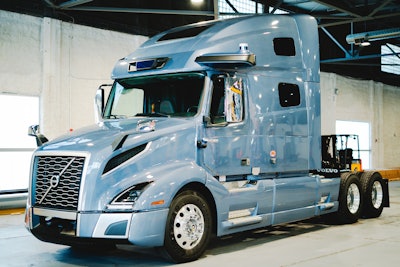 Self-driving truck startup Aurora this week shared a glimpse of its prototype Aurora-powered Volvo VNL.
Integrated with the Aurora Driver's sensor suite, the truck is the first Volvo designed to operate with the Aurora Driver, representing a significant step as Aurora and Volvo begin building commercial Level 4 autonomous Class 8 trucks at scale.
Aurora is leveraging the power of its Aurora Driver Development Program to structure the engagement with Volvo and maximize the combined team's strengths in world-class vehicle engineering, manufacturing and support, and autonomous vehicle technology development. The Aurora Driver Development Program leverages the "common core" design of the Aurora Driver to simultaneously deliver self-driving long-haul trucks and passenger vehicles. The Aurora Driver "common core" refers to how its hardware, software, infrastructure, and development tools are designed to work across all vehicle types. This commonality ensures that every learning, development, hardware improvement, and cost reduction made to the Aurora Driver benefits every vehicle it powers, which also allows for concurrent vehicle development.
Safely developing vehicles powered by the Aurora Driver for wide deployment, the company said, "is an extremely rigorous multi-phase process." This complex process is why Aurora is collaborating with Volvo to design the VNL architecture for its Driver and why these trucks will be manufactured on Volvo's own production line.
Over the next several months, Aurora will integrate its feature-complete hardware kit and test and validate Aurora-powered Volvo VNL trucks through its robust Virtual Testing Suite.
Top fleet, TCA host parade celebrating truckers, commemorating 9/11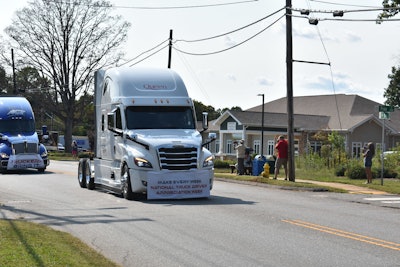 Cargo Transporters (CCJ Top 250, No. 170), along with the support of the Truckload Carriers Association, hosted the inaugural America Rolls Strong Truck Parade this past weekend.
The event celebrated National Truck Driver Appreciation Week, ongoing through Sept. 18, and commemorated the 20th anniversary of 9/11. Held in Claremont, North Carolina, the America Rolls Strong Truck Parade featured a 30-truck convoy from local and national trucking companies in the region along with first responder vehicles.
"The America Rolls Strong Truck Parade is all about our nation's professional drivers who are absolutely essential to our economy and deserve to be called out for their continued service under some of the toughest of conditions," said Dennis Dellinger, president and CEO at Cargo Transporters. "These men and women continue to drive and deliver the goods we all depend on, and during National Truck Driver Appreciation Week we are proud to join carriers across the country to celebrate their service."
The inaugural parade was just one of the new initiatives under #TruckloadStrong, a TCA initiative focused on elevating the image of the truckload segment of the trucking industry.
The America Rolls Strong Truck Parade included special patriotic Ride of Pride trucks. The Ride of Pride program was founded in 2002 by Ed Keeter, a Vietnam War veteran and former shift manager at Freightliner's Cleveland Truck Manufacturing Plant in North Carolina, as a way to recognize military veterans. Every year, Freightliner Trucks awards new Ride of Pride trucks to different trucking companies. In 2019, Cargo Transporters received a Ride of Pride tractor dedicated to Medal of Honor and Purple Heart recipients.
PrePass expands driver safety Alerts
PrePass Safety Alliance recently upgraded the PrePass safety Alerts system to include critical traffic warnings across all 48 contiguous states.
Truck drivers receive PrePass Alerts as they approach known high-risk areas on the road, helping them to stay alert and reduce speed when applicable. PrePass Safety Alliance works in collaboration with the trucking industry and enforcement agencies to select Alert locations that best reflect true areas of concern.
With audio and visual notifications, PrePass Alerts offer up to the minute in-cab safety notification of work zones, traffic incidents and crashes, dangerous slowdowns, and traffic congestion. These Alerts are in addition to the original warnings for truck parking, steep grades, gusty winds, no commercial truck roads, rest areas and brake check chain-up areas.
FleetPride acquires Tennessee-based maintenance company
FleetPride announced Tuesday that it has acquired the assets of Truck Service Company, Inc., of Chattanooga, Tennessee.
Truck Service Company has been in business since 1989, providing repair and service work for drivers and fleets in southern Tennessee and northern Georgia. Truck Service Company was founded by Jerry Gamble and is now managed by his two sons, Rodney and James. The service center will partner with the existing FleetPride parts location only a few blocks away to create a complete heavy-duty parts and service value proposition for customers.
"Rodney, James and the other new team members are going to be great additions as we welcome them into the FleetPride family," said Mike Harris, FleetPride senior vice president of sales and operations. "Truck Service Company has a reputation for quality work and great customer service, and this acquisition will help us enhance the customer experience with parts and service in the Chattanooga market. It all starts with great people; we feel very fortunate that Truck Service Company chose FleetPride to partner with moving forward."