Trucking news and briefs for Tuesday, Aug. 24, 2021:
Port fleet takes delivery of 10 Peterbilt EVs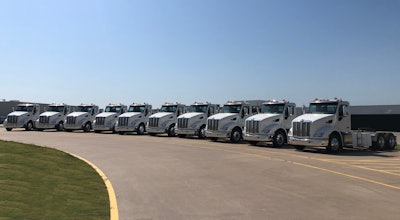 Shippers Transport Express has taken delivery of 10 Peterbilt Model 579EV trucks, which the carrier will immediately use as part of its drayage operations at the Port of Oakland. Five additional Model 579EVs are scheduled to be put into service as part of their Port of Long Beach drayage operations in November.
The fully integrated, battery-electric 579EV in operation by Shippers Transport is optimized for drayage operations requiring two to three trips a day, of up to 50 miles in length before returning home at night to recharge. When used in conjunction with a recommended DC fast-charger, the state-of-the-art, high-energy density battery packs recharge in three to four hours.
"With the recent completion of the charging infrastructure at the Port of Oakland, right now is the perfect time to put our 10 Peterbilt Model 579EVs into service and demonstrate the benefits zero-emission trucks will provide moving cargo around our California ports," said Guy Sanderson, general manager of Shippers Oakland.
Goodyear partners with Plus for autonomous truck development
Goodyear Tire & Rubber Company and self-driving truck technology provider Plus are partnering to provide optimized, autonomous trucking systems, the companies announced.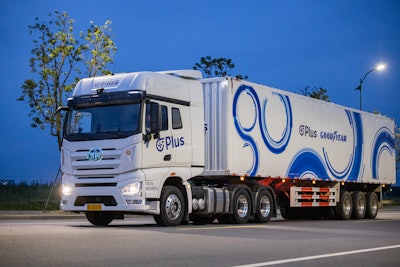 Through the collaboration, Goodyear's suite of services, including connected tires, will further enhance efficiency and safety for trucks powered by Plus' Level 4 autonomous technology.
Goodyear and Plus will explore how Plus' autonomous system can incorporate feedback from Goodyear's connected tires into Plus' online, machine-learning-based fuel economy efficiency.
The companies said integrating Goodyear's intelligent tires with Plus' autonomous driving system can also improve the vehicle's overall performance in severe weather and extreme road conditions.
Paccar recalls nearly 700 medium-duty trucks
A possible fuel leak in certain engines has prompted Paccar to recall approximately 688 medium-duty Kenworth and Peterbilt trucks, according to National Highway Traffic Safety Administration documents.
The affected trucks are equipped with Cummins L9 diesel engines in which a fuel leak can occur from the fuel hose between the fuel pump and the remote fuel filter head.
Affected models include 2021-2022 Peterbilt 536, 537, 548 and Kenworth T270, T280, T370, T380, T440, T470, and T480 trucks.
Cummins will replace the fuel hoses for free on the affected trucks. Owners can contact PACCAR's customer service at 1-425-828-5888 (Kenworth) and 1-940-591-4220 (Peterbilt). PACCAR's numbers for this recall are 21PBG (Peterbilt) and 21KWF (Kenworth). NHTSA's recall number is 21V-601.
Wabash recall hits 350 reefer trailers
Wabash National is recalling approximately 352 model year 2018-2022 refrigerated van trailers in which the fuel tank brackets can detach.
The recall affects trailers manufactured with bonded fuel tank brackets. The affected trailers use a two-part adhesive to bond the fuel tank brackets to the underside of the trailers.
Dealers will add an aluminum plate and four fasteners to each bracket to repair the issue. Owners may contact Wabash customer service at 1-765-771-5404. Wabash's number for this recall is B21012. NHTSA's recall number is 21V-588.