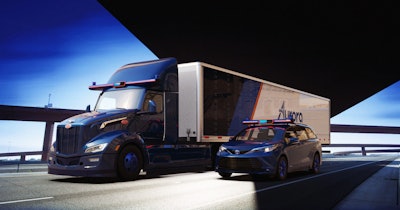 Self-driving truck startup Aurora Friday announced the development of its next generation of hardware. The company is targeting a commercial debut of the hardware in pilots this year and with the launch of the company's trucking and ride-hailing businesses to follow in 2023 and 2024, respectively.
Before the launch of Aurora's autonomous trucking and ride-hailing businesses, the feature-complete hardware will debut on Aurora's Class 8 trucks in commercial pilots and on the company's test fleet of Toyota Siennas that will hit public roads at the end of this year.
The next-generation integrated hardware suite, the company said, features more powerful sensors condensed into a sleek, modular, automotive-grade rack and a new powerhouse computer.
"Aurora has years of collective industry experience in developing world-class hardware teams and products," said Sandor Barna, SVP of Hardware at Aurora. "Aurora's hardware fuses the best of many generations of hardware development from Aurora and Uber ATG into a single, optimized, deeply integrated system, setting us up for the successful deployment of the Aurora Driver."
Aurora's hardware comes with new 360-degree cameras, which combine advanced automotive-grade sensor technology with custom-designed lenses. The cameras allow the Aurora Driver – software that plans a safe path through it, and the computer that powers and integrates them both with the vehicle – to detect objects even in challenging lighting situations like facing headlight glare and sun glare, and entering and exiting tunnels.
FirstLight Lidar measures the position and velocity of every point it observes to build a dynamic 3D representation of the world for the Aurora Driver. By leveraging FirstLight's data, the Aurora Driver can track the velocity and compute the acceleration of vehicles over 400 meters away, creating more time for braking and response.
Imaging radar is more precise than traditional radar, providing the Aurora Driver with high resolution and broad coverage that complements the data it receives from cameras and lidar. The improved imaging radar sensors on Aurora's hardware produce precise 3D images despite challenging weather conditions like rain, dense fog, and snow.
Aurora's hardware comes with a powerful machine with a 5x increase in processing power, built-in redundancy for additional safety, and the networking power capacity to operate safely without a safety driver.