Trucking news and briefs for Thursday, Jan. 6, 2022:
Peterbilt rolls out first L4-capable Model 579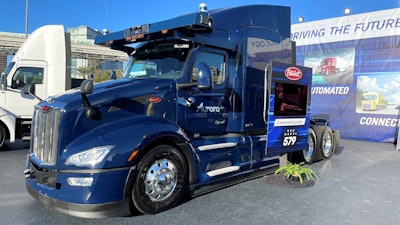 At the Consumer Electronics Show in Las Vegas this week, Peterbilt will showcase the first Model 579 equipped with the Aurora Driver, a Level 4 advanced autonomous system.
Level 4 (High Driving Automation) is the first SAE level of autonomy that is considered truly driverless, as the system is capable of driving the vehicle itself under specific circumstances.
Introduced in early-2021, the Model 579 is the most technologically advanced truck Peterbilt has ever built, featuring improvements in aerodynamics, efficiency, comfort, technology and uptime. Front and center in the updated Model 579 is a class-leading 15-inch Digital Dash Display.
Aurora is designing its industry-defining technology to deliver the benefits of self-driving technology safely, quickly and at large scale. Aurora has incorporated the New Model 579 into its heavy-duty test fleet, which is hauling freight for customers today.
"Our partnership with Paccar to co-develop self-driving Class 8 trucks builds on a deep technical foundation and years of collective expertise. The team is making progress as we prepare to launch Peterbilt's first autonomous trucks at scale," said Sterling Anderson, Aurora cofounder and chief product officer. "Together, we're building a product and business that will make our roads safer and our supply chains more efficient, and we're excited to share a glimpse into that future at CES."
USA Truck buying 10 Nikola battery-electric trucks with option to purchase 90 more
USA Truck (CCJ Top 250, No. 68) has entered into a Letter of Intent (LOI) for an initial purchase of 10 Nikola Tre BEV trucks from Thompson Truck Centers, a member of the Nikola Corporation sales and service dealer network.
The LOI between USA Truck and Thompson is a "fleet-as-a-service" model where Thompson will provide sales, service, maintenance, and energy infrastructure required to operate the Nikola Tre BEV trucks, expected to be delivered in the first half of 2022. The agreement also includes the option to purchase an additional 90 Nikola zero-emission trucks over the next two years.
"USAT Capacity Solutions has become a leader in our industry by partnering with technology companies that bring innovative solutions to our customers and drivers while improving the lives of everyone who connects with our company," said James Reed, President and CEO of USA Truck. "The partnership with Nikola and Thompson advances our critically important ESG initiatives and further demonstrates our commitment to sustainability now and in the future."
Financial Carrier Services acquired by TBS
TBS Factoring Service, headquartered in Oklahoma City, has acquired Charlotte, North Carolina-based Financial Carrier Services. The acquisition will provide a wider array of services to current and potential clients of both companies, TBS said, and paves the way for future expansion in the transportation and logistics industries.   
FCS was founded on the notion that no matter how large or small a trucking company may be, each and every one deserves a great factoring experience. FCS specialized in recourse factoring. 
The move comes as TBS is under new ownership with NATF Holdings, with a goal of expanding the TBS footprint in transportation industry with mergers and acquisitions. Among the tools now available to TBS clients is an end-to-end fulfillment service platform that simplifies and streamlines the fulfillment process, using advanced algorithms to save users up to 40% of their time previously wasted on manual processes.    
As TBS grows, the company said, more benefits, services, and solutions will open up to current and potential clients.