Kansas Governor Laura Kelly this week signed into law Senate Bill 313, enabling the deployment of fully autonomous trucks on public roads in the state.
Thursday, autonomous middle mile logistics startup Gatik announced that it would expand its operations to Kansas. The company worked closely with Walmart and the Kansas Department of Transportation, the governor's office, leadership in the House and Senate and the Kansas Sheriffs' Association to develop and propose legislation that prioritizes the safe and structured introduction of autonomous vehicles in the state.
Prior to commencing operations, Gatik will work closely with state and local authorities to provide education and training sessions to law enforcement and first responders.
Gatik and Walmart have a history of working jointly with state legislators and regulators across multiple jurisdictions. In 2019, Walmart and Gatik proposed legislation in Arkansas to pave the way for commercial operations to commence and in 2020, the companies received the first approval ever granted by the Arkansas State Highway Commission to remove the safety driver from Gatik's autonomous trucks, following the completion of 18 months' successful operations.
Since commencing commercial operations in 2019, Gatik has achieved a 100% safety record ​​across multiple operational sites in North America – including Arkansas, Texas, Louisiana and Ontario – and last year became the first company to operate fully driverless commercial deliveries on a middle mile delivery route anywhere in the world with Walmart, in their home state of Arkansas.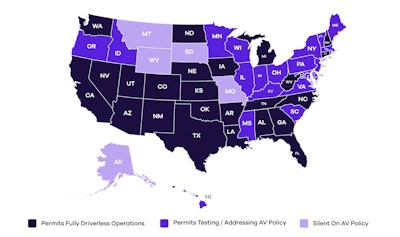 Not all transportation stakeholders were thrilled, however. Members of the Teamsters have worked for months opposing the measure, calling out the bill's "dangerous language" that would put future autonomous vehicles on the road without human safety operators.
"This bill was rushed through the legislature over objections from Republicans and Democrats alike," said Daniel Avelyn, Teamsters International Vice President for the Central Region and President of Joint Council 56. "The Teamsters will continue fighting back nationwide against the implementation of any new technology that abandons public safety and destroys good-paying, quality jobs."
Conversely, Gatik Head of Policy Richard Steiner noted that unfurling commercial autonomy would create "a wealth of new jobs," while "delivering essential goods to Kansans with speed and efficiency."
Kansas Teamsters built bipartisan opposition to the bill and stressed the need for human safety operators, evidence-based liability dollar amounts, and transparency from autonomous vehicle companies regarding safety and crash data.
"We understand that autonomous vehicle technology is progressing, but we are facing a crossroads as a nation," Avelyn said. "This technology can either be implemented responsibly to complement and supplement the work that our members do every day, or it can be done recklessly, risking the lives of our friends and neighbors, and upending the workforce as we know it."