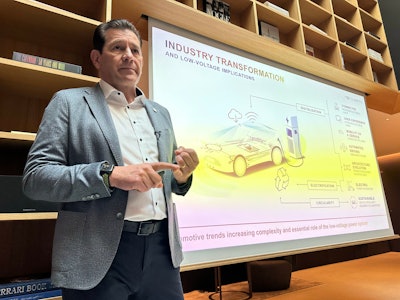 J. Kyle Keener
The advent of advanced safety systems, large infotainment screens and user experience controls have changed the demands on a vehicle's low-voltage battery systems for passenger cars and commercial vehicles alike. The change has prompted Clarios, one of the leading suppliers of low-voltage battery systems around the world, to rethink its role as a supplier.
"Every system has a low voltage network, regardless of architecture," said Mark Wallace, Clarios president and CEO. "Growing up in a combustion engine world, [the battery] just started the vehicle. Today, the low-voltage network has a lot more capability because it provides far more resources for systems and functional safety of the vehicle."
Clarios leadership team members addressed the company's future plans at a House of Journalists press conference during the IAA Mobility trade show in Munich, Germany.
Wallace said Clarios must be a systems-level capable supplier to bring the right solution to unique applications of global OEMs.
"Every manufacturer has different needs and requirements, and therefore we architect a specific application for their vehicles going forward."
The company recently took another step in fulfilling that obligation, announcing the acquisition of Paragon GmbH & Co., KGaA's power business that produces batteries and battery management systems.
"The Paragon acquisition was about gaining additional capabilities and capacities to support our partners around the world," Wallace said.
The convergence of digitalization and electrification in the automotive and commercial vehicle industries are catalysts that are transforming Clarios' product development roadmap, said Federico Morales-Zimmermann, group vice president and general manager for original equipment. "As cars become more connected and generate more data with sensors and cameras, they require higher electrical loads of the [battery system] architecture," he said. "The same thing on the user experience side – bigger screens and more speakers, the user experience is evolving in the vehicle. This means additional key load requirements for low-voltage systems.
Zimmermann said key-off requirements to sustain certain functionality, such as over-the-air updates and emergency safety system management, place additional responsibilities on the low-voltage battery system.
"If you combine digitization with electrification, you come to the electrical architecture of the vehicle. This is undergoing substantial transformation as well," Zimmermann said, adding to meet these needs Clarios is changing its battery architecture to a more systems-level approach.
"We are going from a product to a systems and service solution," said Zimmermann. "With this we provide more value and increase the functionality of the vehicle. That brings great benefits for the OEM because they can drive more software content into the vehicles."
Chemistry and voltage battery development
On the product side, Clarios is taking a chemistry-agnostic approach in the development of future technologies.
"The chemistry of the battery plays a key role in the functionality of the system," said Zimmermann. "From this perspective, we have a wide-ranging portfolio in terms of lead-acid and lithium-ion applications. With this we can provide flexibility in terms of the voltages, scaling them to provide 12, 24 and 48 volts for different segments, including passenger cars and commercial vehicles."
Already a leading producer of relatively new lithium-ion low-voltage battery technologies, Clarios said one battery chemistry that holds promise for future development is Sodium ion. It eliminates the requirement for lithium and provides more flexibility in terms of mineral sourcing.
"We are looking also at the ultra-capacitor space, as well as multi-output voltage devices that are more scalable on the voltage side," said Zimmermann. "On the Sodium-ion side we are making good progress with good test results so far. We do this in a way that we can become voltage-agnostic."
For the commercial vehicle segment, the addition of electronics and software to a traditional lead-acid battery system allows a company like Clarios to grow beyond a supplier of commodity components. One example of this is the Smart AGM (absorbed glass mat) battery that was announced at the American Trucking Associations' Technology & Maintenance Council Annual Meeting earlier this year.
"We took a well-known lead-acid product and put electronics and software on top of it for diagnostics," said Zimmermann. "It is a perfect application for fleet operations on the heavy-duty side where we are currently testing fleet diagnostic capabilities around the globe."
Clarios expects Smart AGM will also have applicability for light commercial vehicles where predictive battery health is needed to reduce downtime and maintenance costs.
Smart AGM product testing product testing includes Class 7 & 8 heavy-duty trucking applications with commercial fleets in the United States, Europe and Mexico. Clarios is still on its original timeline to launch the Smart AGM battery into full production in 2024 or early 2025.
Wallace predicts rapid growth in the AGM battery market overall as an alternative to traditional flooded battery technology. "A lot of truck makers still use flooded batteries," he said. "One of the growth places we have is conventional AGMs replacing flooded batteries. Trucks are getting more sophisticated and need more power, especially when the key is off. They will have to go to AGM in order to support that."
Clarios expects AGM battery demand overall will grow by double digits as the number of vehicles will increase from 1.6 billion to 1.9 billion between 2030 and 2040.
"AGM is going to be the primary battery of choice. The vast majority of new battery electric vehicle platforms are AGM," said Wallace, adding that Lithium-ion carries a higher price point.