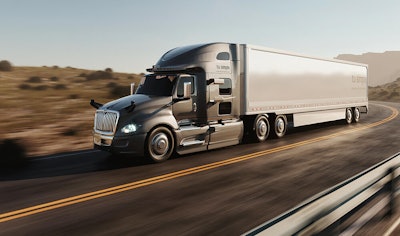 TuSimple
Autonomous truck developer TuSimple, once viewed as a leader in the expanding self-driving industry, announced Wednesday it will lay off 25% of its staff as part of a restructuring plan following a series of setbacks that includes a truck crash and a federal investigation. Roughly 350 employees will lose their jobs.
TuSimple President and CEO Cheng Lu, who rejoined the company last month to replace fired CEO Xiaodi Hou, blamed the layoffs on a "difficult" economy.
"I returned to TuSimple as CEO to help address a number of challenges and set the company up for long-term success," Lu said. "This required evaluating our entire workforce and making tough decisions. It's no secret that the current economic environment is difficult. We must be prudent with our capital and operate as efficiently as possible. While I deeply regret the impact this has on those affected, I believe it is a necessary step as TuSimple continues down our path to commercialization. This is part of our overall strategy to prioritize investments that bring the most value to shareholders, and position TuSimple as a customer-focused, product-driven organization."
CCJ reached out to the Autonomous Vehicle Industry Association, whose members include Aurora, Embark, Ford, TuSimple and Waymo, for comment on TuSimple's financial woes and if they might signal troubling times ahead for the nascent, cutting-edge autonomous truck industry in 2023.
"AVs continue to make steady progress in delivering the technology's safety, mobility and efficiency benefits," said AVIA executive director Jeff Farah. "Like all sectors of the economy, there have been and will continue to be changes as the country faces economic headwinds and as the AV industry evolves. What has not changed is the industry's commitment to ensuring AVs benefit the public."
[Related: Knight-Swift gets its first autonomous truck]
TuSimple reports that its layoff leaves 80% percent of its remaining staff in research and development, which includes engineers critical to hardware and software resilience, reliability, safety and information security. Most of the company's restructuring will impact its U.S. operations and not its business interests in Asia. TuSimple's stock value has dropped 77% over the past six months.
In the last few years, several CCJ Top 250 fleets have made financial investments in TuSimple, including U.S. Xpress, Schneider and Werner. Navistar and its parent organization Traton also have an interest.
In an effort to improve its prospects, TuSimple plans to scale-up its autonomous technology with key shipping partners while throttling back on freight expansion, which includes unprofitable freight lanes and trucking operations that use previous generation autonomous software that the company says provides limited value.
Lu had previously led TuSimple from September 2020 to March 2022 when he stepped down to assume an advisory role. After returning as CEO last month, Lu committed to set the company on the path towards stability and long-term success.
Lu has plenty of work ahead. Ongoing challenges have continued to hamper TuSimple's place among a growing market of autonomous truck players which seek to improve delivery times and safety over trucks driven by people subjected to hours of service regulations.
In April, an autonomous TuSimple truck crashed into a concrete barrier on Interstate 10 in Tuscon. There were no injuries in the wreck which the company blamed on human error.
[Related: Behind the wheel of an autonomous truck]
Amid a federal investigation into the accident, TuSimple pushed ahead in an effort to maintain its leadership in the Class 8 autonomous market and in June announced a hiring campaign on social media.
However, in October then-TuSimple CEO Xiaodi Hou was fired after a Wall Street Journal report alleged TuSimple was being investigated by the FBI, the Securities and Exchange Commission and the Commission on Foreign Investment about the company's ties with Hydron, an autonomous startup founded by TuSimple co-founder Mo Chen earlier this year.
In the past 30 days, TuSimple has named three independent directors to the board, reconstituted its board committees, including an independent audit committee in compliance with Nasdaq requirements, and stabilized the management team, including naming its interim CFO, Eric Tapia, as permanent CFO. In addition, Mike Mosier, one of the new independent board members, was named as TuSimple's Security Director – a position which required review and a notice of non-objection from the Committee on Foreign Investment in the United States.
TuSimple did not respond to an interview request.