Trucking news and briefs for Tuesday, May 30, 2023:
Autonomous trucking company Embark to be acquired
Applied Intuition, Inc., a tooling and software provider for autonomous vehicle development, and autonomous trucking software company Embark Technology have entered into a definitive merger agreement.
Under the agreement, Applied will acquire Embark in an all-cash transaction with an equity value of approximately $71 million.
Founded in 2016, Embark has built a robust autonomous software stack that uses machine learning methodologies for perception while relying on a safety-redundant compute system. Embark also developed a custom-built hardware platform optimized for autonomy and has performed extensive real-world testing and system deployment, with over 1.5 million miles of autonomous operations conducted on highways.
Applied aims to integrate Embark's internal tools, data and software assets to further improve its offerings for customers in the trucking and automotive industries. Embark plans to retire its fleet of test vehicles as part of the transaction. Key Embark employees are expected to remain to support Applied and expand the company's suite of product offerings.
"Today marks an exciting, new chapter for Embark," said Alex Rodrigues, co-founder and CEO of Embark. "I would like to thank all past and present employees for their contributions over the past seven years. I appreciate everything they have done for the company, and I cannot wait to see where Applied takes the technology we have built."
Under the terms of the agreement, which has been approved unanimously by the boards of directors of both companies, Embark shareholders will receive $2.88 per share in cash. The transaction is expected to close in Q3 2023 and is subject to approval by Embark shareholders and other customary closing conditions.
[Related: Self-driving trucks pose different questions for insurers]
PGT Trucking hauling low-GHG steel on Nikola electric truck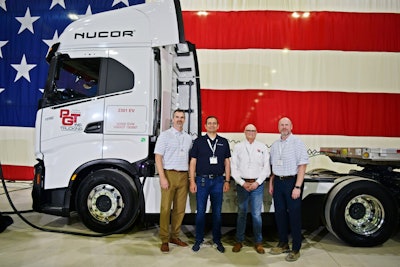 PGT Trucking (CCJ Top 250, No. 93) delivered its inaugural shipment of low-greenhouse-gas steel via Nikola's Class 8 battery-electric vehicle from Nucor's new Brandenburg, Kentucky, plant to a nearby fabricator, as part of its sustainable shipping solutions program.
To commemorate this first-ever shipment of low-GHG-intensity steel by a Class 8 zero-emissions truck, the companies welcomed team members, media and local officials to Nucor Brandenburg for a behind-the-scenes look at the sustainable equipment and commodities that are transforming the steel and transportation industries.
"PGT Trucking is proud to partner with companies like Nikola and Nucor who share a common vision and commitment to a greener future," said Gregg Troian, PGT Trucking President. "We are confident that these relationships will help guide PGT's Future of Flatbed® initiatives, allowing us to reach our goal of a 35% reduction in emissions of our company-owned equipment by the year 2025."
Nucor has installed charging stations at multiple mills, including Brandenburg, to enable the use of battery-electric flatbed trucks. It is estimated that a short-haul delivery made using this truck will reduce carbon emissions by 40% and create a 20% savings in energy cost, per trip.
Navistar launches new technician skills competition
In an effort to recognize technician excellence, Navistar has launched its inaugural Top Team technician skills competition.
Taking place at Navistar's Service Solutions Expo in Grapevine, Texas May 22-24, 10 International Truck and IC Bus Master Certified and Diamond Certified technicians from North America competed in a series of skills-based contests surrounding diagnostics, maintenance, and repairs.
Nathan Reed from RWC Group in Seattle, Washington, was named International Truck's 2023 Top Team technician, and Anthony DeCicco from Wolfington Body Company in Exton, Pennsylvania, was named IC Bus's 2023 Top Team technician.
Part of Navistar's TECH EmPOWERment program's retention and recognition strategy, the Top Team competition replaces the Technician Rodeo, which was last held in 2019. All Master Certified technicians and Diamond Certified technicians from the International truck and IC Bus dealer networks were invited to test for a spot in the Top Team competition. Four hundred twenty certified technicians took the test, with the top 10 being selected to participate in the competition.
"The Top Team competition is a concept which is very important for Navistar's future and our industry," said Fabio Souza, Executive Vice President, Service Solutions, Navistar. "This is an environment where the technician can feel that we recognize their value. I want them to understand that they are critical to the execution of our strategy."
During the competition, the service technicians had the opportunity to display their skills, knowledge, and professionalism as they safely and efficiently diagnosed and repaired different systems in mobile or stationary equipment. The 20 stations included tests on engines, air brakes, aftertreatment systems, electrical systems, wiring, and the Diamond Logic electrical system and fault codes, among others.
Competitors had 30 minutes to complete each station, with 10 minutes of judging afterward until moving to the next station. Beyond learning and testing their expertise, the Top Team contestants fostered camaraderie, networked with industry leaders, and identified trusted mentors to offer guidance as their careers advance.