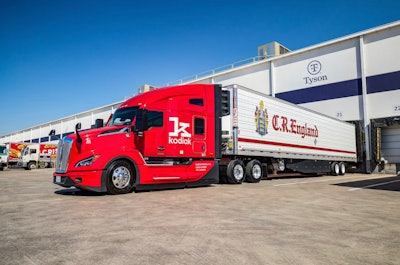 C.R. England
In the growing man versus machine debate, C.R. England (CCJ Top 250, No. 29) believes that people will out-perform autonomous trucks when it comes to fuel economy.
However, autonomous vehicle (AV) technology does offer enough promising benefits like improved safety, faster delivery times and driver relief, which led the Utah-based carrier to recently announce AV pilots with Kodiak Robotics and Torc Robotics.
But better fuel economy? While C.R. England's vice president of equipment and fuel Ron Hall does see AV tech beating out some of its drivers in terms of employing better tactics to lessen fuel consumption, he's not convinced that artificial intelligence will completely emerge victorious.
Hall likens fuel economy benefits from truck autonomy to their experience with automated transmissions.
"We are a very forward-thinking fleet when it comes to fuel economy," Hall said. "We have a ton of investments in aero devices. We invest in automated transmissions. There are a number of factors that make it important to us not only for cost management, but also for sustainability. What we saw with automated transmissions is that the technology doesn't beat the best driver, but it brings the fleet average much closer to the best driver's fuel-economy performance, and we think autonomy will do the same thing."
[Related: Autonomous trucks raise new challenges for insurance industry]
Hall sees AV technology progressively improving and leading to a greater fleet average of fuel economy along the way.
"We think autonomy will continue to improve, just like automated transmissions did, our ability to come closer to a fleet average perspective to that of optimal driver capability on fuel economy," he said.
Leveraging AVs to help drivers
C.R. England is taking a people-first approach to autonomy in general. For instance, when first asked how autonomous trucks might help C.R. England, Hall said the company envisions self-driving technology actually boosting driver satisfaction by assuming routes that most drivers don't want.
"One of the biggest challenges to us growing as an organization has been access to drivers and being able to grow our driver force," Hall said. "We've put a ton of emphasis on that through pay increases, redesigning our network for additional home time and driver quality of life. But we still see an opportunity to continue to expand through other opportunities like autonomy. We don't think autonomy will replace drivers, but we think autonomy will give us the ability in certain lanes to grow our business where drivers aren't available."
That doesn't necessarily mean placing AV trucks on strictly long-haul routes but rather on trips that can lead to more desirable home time for drivers.
"It could be a variety [of routes]," Hall said. "Obviously, our goal with our drivers is to get them home as often as possible. In areas of the country that don't have a high population base we still have to haul freight there but it's really not a great place to position drivers because they're not going to be living there. That's where autonomy fits."
Drivers have been informed about the pilots along with the goals the company has for the technology.
"Overall feedback has been positive," Hall said.
In addition to notifying drivers about the pilots through a monthly safety video, the company meets regularly with a small group of drivers called the Road Team.
"We spend a lot of time keeping the Road Team drivers up to date on initiatives and they can then broadcast information to the broader driver group as they meet them on the road," Hall said. "Our conversations with our Road Team drivers went very well. While there were many questions, the feedback was positive."
[Related: California driverless truck ban gaining momentum]
Improved safety and delivery times
C.R. England also sees autonomous trucks, in some cases, offering improved freight delivery times since AV technology is not subject to mandatory driver rests under hours-of-service rules.
"We do see some potential benefit there," Hall said. "The fact that an autonomous truck will not be subject to log hours and the restrictions that come with that is attractive to us. The concept of running that truck nonstop … trucks have gotten so expensive that utilization is a more important factor now than it has ever been. And so it's extremely critical whatever technologies we can leverage to enhance our utilization of the truck we take advantage of those."
When it comes to safety, Hall sees AV technology having the upper hand given fast reaction times to potentially dangerous driving conditions.
"I think there are two important capabilities that autonomy is going to bring. Most people will guess the first of those, and that's reaction time. The reaction time of responding to a threat is going to be much quicker with computer-driven technology," Hall said. "But the other piece of that is autonomy looks so far down (the road) that the amount of time that the truck has to react to the threat is greater. So between being able to react more quickly to the threat as well as looking farther down the road and being able to identify the threat, both of those will benefit safety, I believe."