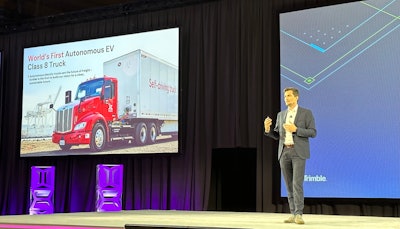 Angel Coker
You wouldn't use a Phillips-head screwdriver to spread concrete. In the same way, you shouldn't expect autonomous vehicles (AVs) to solve all the problems facing the transportation industry, said Walter Grigg, leader of industry relations at Torc Robotics.
"What we see is we're building a tool for the industry. No tool in a carpenter's tool belt does everything," he said. "We're building what is effectively a Phillips-head screwdriver. It has a very specific application it is designed to do very well … A tool has a place and a constraint in what it does, but it does that job very well when applied correctly."
That was the theme surrounding autonomous trucking at the Trimble Insight 2023 Tech Conference and Expo in Las Vegas: AVs have a place in the industry but aren't a be all end all solution.
Michael Wiesinger, vice president of commercialization at autonomous technology provider Kodiak, said it all depends on the use case. And when it comes to private fleets, he said the industry could see some shippers and platform providers acquire AV trucks and take away some market share from carriers. But he said Kodiak won't be one of carriers' competitors because the company believes in core competencies. He said Kodiak is the expert in developing AV technology solutions for trucking companies, and it will leave the trucking business to them.
"What you have to do is really look at the specific network and say, 'Do autonomous trucks make sense for you or not? What are the benefits from a safety, from a utilization, and so on perspective, that you can actually generate?'" Wiesinger said. "It's really depending on the use case and how you want to operate your network in the future."
Covenant Transport (CCJ Top 250, No. 43) saw a use case for its expedited fleet of about 850 trucks. Matt McLelland, vice president of sustainability and innovation at Covenant, said while the company has never been large enough to be an early adopter of radical new technology, it decided to take an early position on AV trucks because it's a great way to build its expedited fleet of 850 trucks.
He said the company is taking a "fluid and cautiously optimistic" stance on AVs, but he doesn't see the technology replacing drivers – at least not any time soon.
"We don't see AV replacing any of our drivers. We say augmenting the fleet," McLelland said. "Maybe at some point, after we're all pushing up daisies, that'll be the case, but what we tell our drivers right now is that if you take a job with us as a 21-year-old driver, you can retire with us at that point in the future."
When AVs were first presented to carriers, he said it looked like the value proposition was going to mostly be about exiting drivers and cost savings related to recruiting and retention. But that's not going to be the case as there are many edge cases where a driver is still needed from handling breakdowns and refueling to pre- and post-trip inspections.
"There are all these other jobs that seem to be spinning up that the driver used to do, so we haven't gotten to the point yet with our partners (about) the cost per mile and how the economics of that are going to shake out," McLelland said. "But there are a lot more people involved than used to be since that driver was that one person that was able to do everything. So the driver out, for us, looking at the timelines that have been shared publicly, it's still a little ways out, so we're not spending a lot of time trying to figure that out today … There are still a lot of unknowns for us." For now, he said Covenant is looking at available lanes and the timeline and will begin putting things into a spreadsheet again next year to start figuring out the unit economics of it.
While Covenant doesn't see the technology replacing drivers, Wiesinger does – eventually. Kodiak currently operates a fleet with a safety driver, but he envisions a truck with no human on board. A human would perform inspections and prepare the truck at the outset, and a human would receive the truck, but the driving portion would be driverless.
To get there, Kodiak is building a safety case, which is a risk analysis that proves its system is safer than the average human truck driver.
McLelland said the safety proposition is what Covenant is most excited about.
"Accidents are things that are really at the top of the list of things that keep us up at night," he said. "And we think that (AV truck) is going to make a better decision than the driver – at least as good of one."