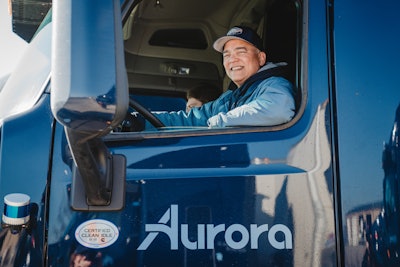 Aurora
As autonomous truck technology continues to develop, policymakers in Washington are attempting to gain a better understanding of the technology, its impacts on safety, the trucking workforce, the economy and more. One question in particular reared its head on Wednesday, Sept. 13, in a hearing of the Highways and Transit Subcommittee of the U.S. House's Transportation and Infrastructure Committee: Will autonomous tech cost drivers their jobs?
Testifying during the hearing were Chris Urmson, co-founder and CEO of autonomous truck maker Aurora Innovation; Jeff Farrah, executive director of the Autonomous Vehicle Industry Association (AVIA); Chris Spear, president and CEO of the American Trucking Associations; and Cathy Chase, president of the Advocates for Highway and Auto Safety. Notably missing from the hearing -- during National Truck Driver Appreciation Week, no less -- was an actual truck driver or group representing operators' interests, despite the technology's potential to threaten the truck driving profession itself in the future.
Spear, in his opening testimony and numerous times throughout the hearing, stood by ATA's long-held position that a driver shortage exists, with the industry short 78,000 drivers today and needing to bring in 1.2 million new truck drivers over the next decade to replace an aging trucking workforce and meet freight volume projections, he said.
Driver displacement because of automation is a "myth," Spear added. There is "plenty of room for innovation to play a role" moving forward. Spear said particularly with SAE Levels of Driving Automation 2-4, which still require a driver in the cab, technology can help truck drivers by improving their awareness and responsiveness.
[Related: California driverless vehicle ban heads to governor's desk]
Asked directly by Rep. Pete Stauber (R-Minnesota) if he would look a truck driver in the eye and tell them they would not lose their job because of automation, Spear appeared confident: "I would. I wouldn't hesitate. In fact, I think it's going to empower that driver -- certainly [SAE autonomous] levels 2, 3, 4, are going to make them more marketable, give them better performance. These are all exciting inroads that we want to see in our industry. If we were flooded with drivers, if we had an abundance of people behind the wheel, we would be having this conversation very differently than we are today. But I do believe there is a role for innovation to play without displacing those drivers. I'd look them in the eye and tell them, 'You've got nothing to be concerned about.'"
Farrah and Spear both each took direct questions from several subcommittee members around autonomous trucks and truck driver job displacement.
Farrah, representing an autonomous vehicle association, voiced views similar to Spear's. With a higher volume of freight projected down the road, he sees the technology "as augmenting truck drivers," he said. That won't necessarily lead to less of a need for drivers. With a higher volume of freight, "we need to figure out a way to move it. We want to be a part of that solution and work in partnership with truck drivers to do that."
Aurora's Urmson said during his testimony that the company today employs more than 40 truck drivers with varying degrees of experience, noting that he believes it is important for truck drivers to have a voice in the development of the technology.
[Related: First 'autonomous truckport' opens in Georgia]
What's needed from Congress; safety, cybersecurity guardrails; more
Throughout the hearing hearing, questions from subcommittee members probed the Congressional role in ongoing development. Many were concerned with ensuring America is at the global forefront of AV trucking technology.
Spear urged establishment of a federal framework to avoid a "patchwork of rules" from individual states that create confusion among AV developers and end users. He added that the framework should be a performance standard, "something that we can measure" with data collected by the vehicles.
Responding to a similar question from Rep. Mike Collins (R-Georgia), Spear said Congress shouldn't "panic," adding that he believes AVs will improve "safety and quality of life for the workforce," adding that the technology will improve America's "ability to compete globally."
Farrah noted AV developers would like to see the Federal Motor Carrier Safety Administration "take action on a notice of proposed rulemaking specific to autonomous trucking," adding that there are questions the AV industry would "like to see clarified." With limited time for questions from subcommittee members and responses from the witnesses during the hearing, Farrah did not have an opportunity to talk about specifics on the questions from the industry.
[Related: FMCSA to study driver interactions with autonomous tech]
Cathy Chase, with the group Advocates for Highway and Auto Safety, said that while autonomous technology is being offered as a solution to rising highway fatality numbers, the "remedy cannot be realized without rigorous testing, effective regulations setting minimum performance standards, comprehensive data collection, full transparency to inform regulators and the public, diligent oversight" and more.
Chase pointed to experiences in some locales with driverless cars -- in San Francisco, for instance, one recently collided with a fire truck. She acknowledged that the technology for autonomous passenger cars is different from the technology for commercial vehicles, yet "there are similarities and lessons to be learned. Serious problems must not be replicated or magnified with trucks or transit vehicles."
Rep. Eleanor Holmes Norton (D-D.C.) raised concerns about the safety of vulnerable road users such as pedestrians and bicyclists and overall safety of motorists. Aurora's Urmson reiterated that "safety is paramount to how we develop" AV technology. Already running along Interstate 45 between Dallas and Houston, Urmson said Aurora analyzed 29 fatal crashes involving trucks along that stretch of interstate. Using its Aurora Driver autonomous technology, testing showed all 29 accidents would have been avoided had that technology been in place on the truck involved.
Farrah in his opening statement cited statistics gathered by his association: autonomous trucks have operated more than 45 million miles on public roads without a fatality, he claimed. Rep. Rick Larsen (D-Washington) pointed out that 45 million miles in "not even halfway through the standard number of miles for rates on deaths on highways," which is 100 million vehicle miles traveled. Larsen added he's "not as enthusiastic about the safety record" of autonomous trucks as others.
[Related: Autonomous vehicle makers outline regulatory, legislative recommendations]
The threat of remote infiltration of an autonomous truck's systems -- and data collected -- reared its head in various ways throughout the hearing.
Rep. Derrick Van Orden (R-Wisconsin) voiced concern over the importance to the entire nation of the security of the trucking industry. He cited a data breach that exposed the private information of a number of military servicemembers, but added there's a big difference in that and "the entire nation shutting down" if autonomous trucks across the country were hacked.
"Until we are able to secure these systems in these vehicles, I don't have confidence to get these on the road across the board," he said.
Urmson assured subcommittee members that Aurora takes cybersecurity seriously, adding that their intellectual property is their whole business, and they must protect that. His company also has a cybersecurity team of more than 50 people, he added, well outnumbering its 40 truck drivers.
The entire AV industry has a "deep commitment to cybersecurity," said Farrah. Related to the concern of a possible remote hijacking of an autonomous truck, he added that AVs "are the most monitored vehicles on the road" -- they have set parameters on where they can operate.
"They're confined to that space," Farrah said.
Urmson said Aurora has a fault management system that is the "heart of the Aurora Driver" system. "One thing it's looking for is various cybersecurity checks."
Farrah felt all the testimony on display about cybersecurity during the hearing underscored "why it's important for policymakers to support the development of the American AV industry."
ATA's Technology & Maintenance Council and Law Enforcement Advisory Board have worked with the Transportation Safety Council to develop the Fleet CyWatch program, Spear noted. That program works to provide trucking companies with information and recommendations related to cybersecurity.
[Related: FMCSA closes investigation into autonomous truck crash]