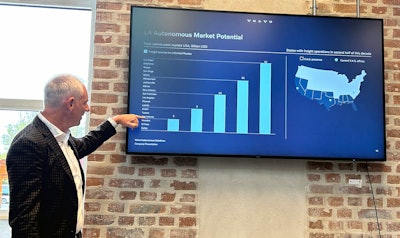 With California appearing on the brink of banning driverless commercial trucks, American Trucking Associations President and CEO Chris Spear on Wednesday urged the House Transportation and Infrastructure Committee to standardize regulations that would ease the testing and use of technology that he and ATA see as promising to enhance highway safety, boost economic productivity and support trucking's workforce.
Spear emphasized that regulations must be consistent state-to-state in order to avoid a patchwork of rules that treat highway users differently based on vehicle type.
[Related: First carrier joins Volvo Autonomous Solutions reservation program]
"What's needed first is a national framework that encourages development, testing and deployment of technology, in direct support of interstate commerce," Spear said in a hearing before the panel's Subcommittee on Highways and Transit. "Federal guidance should treat commercial and passenger vehicles equally and require automated vehicles to achieve an acceptable level of safety and performance, rather than requiring the use of specific technologies."
The California Senate this week passed AB 316, a bill that requires trained human safety operators to be inside an autonomous heavy-duty vehicle while it is operating on public roads in the state. The bill would be by proxy a ban of driverless trucks on the state's roads.
The International Brotherhood of Teamsters this week also released a guiding document for federal policymakers to address issues with autonomous vehicles intended to prioritize workers and safety.
Volvo Autonomous Solutions President Nils Jaeger noted to CCJ Thursday that many driverless technology companies have already moved from California to Texas and other Sunbelt states because regulations in place across most of the lower U.S. are more flexible for testing without human drivers, and Sunbelt states offer more stable weather, adding there is "significant" freight demand across the region and the terrain is mostly flat.
Volvo Autonomous Solutions is Transport as a Service (TaaS) and includes a vehicle purpose-built for autonomous driving, a virtual driver, required infrastructure, operations and uptime support, as well as a cloud solution that controls the transport system and manages logistics flows.
"It is a good environment," he said, noting he believes there will be a need for human driver "for a long, long time."
Spear noted that the hearing falls during National Truck Driver Appreciation Week, a celebration of the nation's 3.5 million professional drivers, and highlighted how automated vehicle technology can coexist, making drivers jobs easier while reducing persistent shortages that have long impacted the industry.
"There's plenty of room for innovation to help fill this gap without displacing drivers," said Spear. "To the contrary, we see this technology as improving the essential job of truck driving by making it safer, more productive, and less stressful. We believe it is vital to attracting the next generation of talent into the profession." In addition, Spear said "securing cargo and ensuring that the movement of hazardous materials, livestock and produce, particularly in extreme weather conditions, are factors that will undoubtedly require a driver, superseding the values of automation."
[Related: Will autonomous trucks displace drivers? Congress holds hearing on impacts]