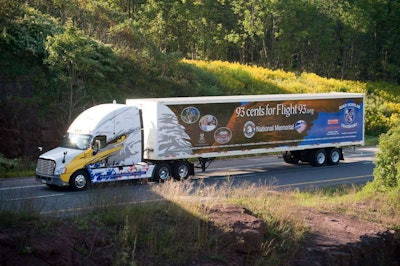 CCJ will be counting down its annual staff-chosen Five Flashiest Fleet winners this week. Voting for the inaugural Five Flashiest Fleets Readers Choice Contest runs until Dec. 24. Click here to cast your vote.
Flashiest Fleet Rank: No. 3
Carrier: Road Scholar Transport, Dunmore, Pa.
Graphics designer: Harbor Graphics
Graphics producer: Harbor Graphics
Road Scholar Transport is involved with numerous charitable foundations and uses its trailer fleet as a way to draw awareness to the various causes. 93 Cents for Flight 93 (www.93centsforflight93.org) was developed by the Halo Foundation and Mactac, a Road Scholar customer, to raise funds for a 9-11 memorial near the crash site in Shanksville, Pa.
"As a company, we try to promote as many foundations as possible," says Jim Zielinski, executive director of Road Scholar Transport. "It's great to have rolling billboards that the foundations don't pay anything for. We pay for the wraps as our contribution."
Why we liked it: "The eagle's profile flows perfectly with the profile of the tractor, and it's an eye-popping and unique highlight to an overall nicely done patriotic package. If this truck is in your line of sight, it's going to grab your attention, and you're going to look twice." – Jason Cannon, Successful Dealer online managing editor
About CCJ's Five Flashiest Fleets:
Fleet graphics can say a lot about a company. Whether they serve to promote brand image or a specific product, many carriers turn to truck and trailer wraps to stand out in the crowd. And as the trucking industry pushes to revive its reputation, these images can help fleets better relate to the motoring public and present a professional look to their customers.
Since 1978, CCJ has been proud to recognize excellence in fleet graphics design and execution. The judges for this year's competition included the editorial and art design staff from CCJ and sister magazines Overdrive and Successful Dealer. Each judge ranked their top 10 out of 52 submissions, and scores were weighted to determine a final ranking.
Other Five Flashiest Fleet winners:
No. 5: Marten Transport/SweetWater Brewing Co.