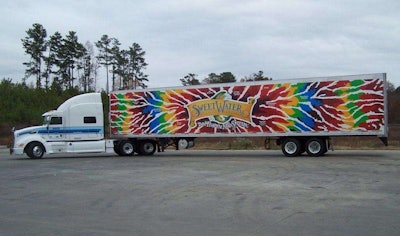 CCJ will be counting down its annual staff-chosen Five Flashiest Fleet winners this week. Voting for the inaugural Five Flashiest Fleets Readers Choice Contest runs until Dec. 24. Click here to cast your vote.
Flashiest Fleet Rank: No. 5
Carrier: Marten Transport/SweetWater Brewing Co.
Graphics designer: John Dunn
Graphics producer: Adnormous
Go to the beer aisle in just about any grocery store, and SweetWater Brewing Co.'s packaging always seems to stand out. The unique Atlanta-based brewery has taken that same message to the streets with this new trailer wrap concept.
"SweetWater Brewing Company doesn't produce any traditional, disposable advertising, so the artwork on the truck serves as an offbeat way to highlight our brand," says Steve Farace, director of marketing for SweetWater Brewery. "These trucks are vital to our mission of delivering the freshest beer possible to shelves across the Southeast. They serve as an opportunity for folks to connect with the brand and understand more about the source of our beer, as well as the destination, while becoming more familiar with the vibe of our company."
Why we liked it: "The wild color scheme – sort of a tie-dye peace-and love blast from the past combined with the jagged white lines – immediately caught my eye, but what really sold it were the various comments and phrases interspersed throughout that kept my attention. I can imagine seeing this truck on the highway and trying to read all of the verbiage while traveling close by." – Dean Smallwood, CCJ and Overdrive managing editor
About CCJ's Five Flashiest Fleets:
Fleet graphics can say a lot about a company. Whether they serve to promote brand image or a specific product, many carriers turn to truck and trailer wraps to stand out in the crowd. And as the trucking industry pushes to revive its reputation, these images can help fleets better relate to the motoring public and present a professional look to their customers.
Since 1978, CCJ has been proud to recognize excellence in fleet graphics design and execution. The judges for this year's competition included the editorial and art design staff from CCJ and sister magazines Overdrive and Successful Dealer. Each judge ranked their top 10 out of 52 submissions, and scores were weighted to determine a final ranking.