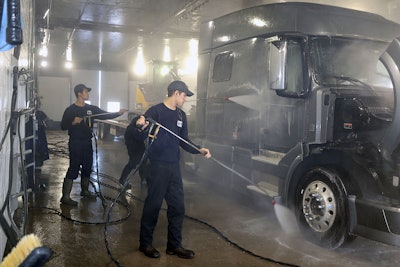 Now that Spring has sprung, road deicing chemicals are far less prevalent on the highway, but fleets with lanes that routinely trek through the coldest parts of the U.S. could still be dragging those chemicals around on the truck chassis.
Road salts and deicers are designed to keep roads passable in harsh winter conditions, but left untended the chemical formulas that eat away at snow and ice will do the same thing to truck chassis, metal components and wiring.
Hub Group Executive Vice President of Maintenance and Equipment Gerry Mead said fleet truck wash programs are often the first things eliminated during cost-cutting exercises, but PPG Commercial Transit Brand Manager Scott Colvin said one of the best corrosion inhibitors is simply keeping the truck clean.
However, it's not as simple as hosing off the rig.
Jack Lennon, vice president of Blue Beacon Truck Wash operations, said just washing the truck's exterior won't remove corrosive chemicals and road salts stuck in the truck's frame, junction boxes, couplers and other hard-to-reach areas.
"Just rinsing with cold water is unlikely to achieve actually removing the road chemical," he said. "A combination of detergents and hot water is really what is needed."
Hot water, Lennon said, better dissolves contaminants and surface salts than cold water.
Once the truck and trailer have been washed with detergent or neutralizer, Mead said it's equally important that they are thoroughly rinsed.
"Salt's not the corrosive agent," Mead adds. "When you add water and it breaks down, chlorine comes out of there and that's your corrosive agent of the salt."
Mead said fleets who have their own in-house wash program often recirculate their water, an environmentally-friendly tactic that could be pumping contaminants right back where they came from.
"You could be washing right back with the chemicals you're getting on the road, so you're defeating your wash," he said. "You have to check the salt content of your recycled water."
Jim Dillon, truck assets manager for Gemini Motor Transport, said his company washes its equipment at least on a weekly basis.
"If they're running through areas where these chemicals have been heavily applied on the highways, we're going to wash them more often than that," he said. "We may wash them two or three times a week."
Optimal truck and trailer wash cycles will vary but Lennon said a good practice is to pay attention to when salts and chemicals are no longer being applied to the road and have the unit thoroughly cleaned soon thereafter.
"Trucks that are washed regularly generally stay in better condition and don't have as much rust on them," he said.
Keeping the truck exterior clean is a year round best practice, but especially so in early Spring. Winter deicers, if not properly removed, will dry on the truck's chassis and components and reactive every time they get wet.
Dave Latimer, Pilot Flying J vice president of shops strategy and operations, said a high-pressure, low-volume wash helps keep salt from clinging to metal parts.
"The faster you can get any of the de-icing agents off the undercarriage of the truck – or anywhere else there are metal parts – the better off you're going to be in the long term," Colvin added.