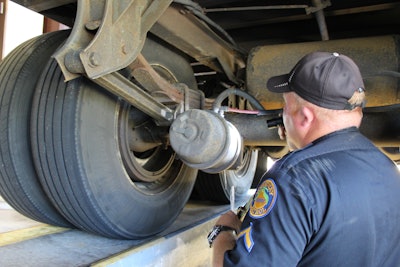 This article was updated May 11, 2022, with new dates for the 2022 annual International Roadcheck blitz.
A truck sits and waits on costly roadside service along I-10 at the weigh station in Sneads, Florida. While the tractor is fine, the trailer it's hauling has enough brake violations, including a leaking air chamber, to place it out of service (OOS) during a Level 1 inspection.
Brake problems are easily among the top reasons trucks are placed out of service during Commercial Vehicle Safety Alliance's (CVSA) annual International Roadcheck blitz.
Fred Andersky, Bendix director – demos, sales and service training, said a review of the findings from the 2020 International Roadcheck event showed that more than 7,200 vehicles and 2,300 drivers were removed from roadways due to a critical finding either related to the safety of the vehicle or of the driver.
"And of these infractions, problems related to the brake system or to brake adjustment topped the list of violations considered critical enough to put a vehicle out of service," he said. "Those violations accounted for 38% of all out-of-service violations found. All told, CVSA's data shows about 21% of the vehicles inspected were put out of service, and the brakes or brake adjustment were a common reason why."
During the 2020 Brake Safety Week, 12% of the 43,565 commercial motor vehicles inspected were placed out of service for brake-related violations. The inspection took place Aug. 23-29.
Another inspection is just around the corner. CVSA's 2022 Roadcheck is May 17-19.
[Related: Misdiagnosis and manual adjustment still a problem with auto slack adjusters]
While it's easy to hear a busted diaphragm inside a brake's air chamber, checking chamber pushrod tolerances take more time and may warrant more work than first realized if out of adjustment. Other components could be to blame which can still take the truck out of service not long after an out of spec pushrod is allegedly fixed.
"When a brake adjustment is necessary and the unit is equipped with automatic slack adjusters it is important to determine the root cause rather than adjusting the slack adjuster," said Matt Copot, vice president of maintenance at Transervice. "It's possible that the slack adjuster is defective or that there is excessive wear within the camshaft, bushings, or clevis pin. Simply adjusting the brake will not prevent the brakes from going out of adjustment a short time later."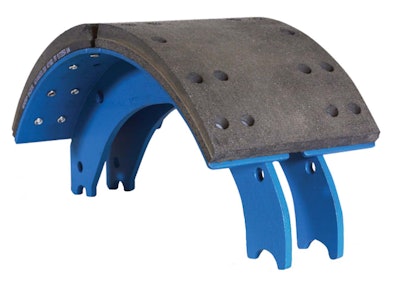 Regular and thorough inspections will help prevent brake problems from leading to OOS violations.
"Brakes should be looked at for proper operation on a regular basis," said Jim Lana, director of operations at Fleet Group. "Proper lubrication of the slack adjustors and S-Cam bushings will extend the life of the brakes and will ensure that you have the properly operating brakes. All brake components should be inspected for excessive wear and proper operation of the slack adjusters. Any wear in the S-cam bushings will effectively reduce the effective stroke of the slack adjuster resulting in reduced braking ability and tagged out of service."
Brake adjustment violations accounted for 16.3% of CVSA OOS violations in 2019. SAF-Holland recommends that the following brake inspections and checks be conducted after the first 3,000 miles or after the first month, whichever comes first, and every month thereafter:
Check brake linings for wear.
Check S-Camshaft for proper operation and keep S-Camshaft bearing bushings lubricated.
Check air brake system for leaks (brake applied).
Check axle structural components for cracks or damage.
Check hub lubrication level for excessive leakage.Check brake lining-to-drum clearance for correct adjustment, and re-adjust clearance, if necessary.
Check service brake and parking brake for performance.
During an inspection, Florida Highway Patrol Trooper Bobby Simmons points out how a brake drum is slightly thicker than a quarter inch which is within CVSA specs. Though obviously worn, the shoes are still within spec, too. However, Simmons shows how the brakes on the opposite side of that trailer axle are in much better condition.
"Brake linings look good. Matter of fact, looks like they've just been replaced," said Simmons, who adds that it's not uncommon to find brake components at various stages of wear throughout a tractor-trailer.
"Some carriers may say if you're going to do a brake job on this side, then you're automatically going to do one on this side to keep everything even," Simmons explains. "It all depends (on the carrier)."
While it's easy to see the correlation between thorough periodic maintenance and fewer OOS violations, some fleets continue to live on the edge.
Working together to keep all systems up and running
Truck brakes are not short on variety. Though low cost and reliable stopping power still easily keep drum brakes the industry's most popular choice, Simmons said he's seeing more disc brakes which are mostly spec'd on steer axles.
Fewer working parts means less maintenance on disc brakes. And while fleets report longer service life that comes with a higher upfront cost, more expensive parts and unwanted weight gain. Regardless if drums or discs are used, air pressure is the driving force behind bringing an 80,000-lb. rig to a safe stop.
"Brake systems are made up of two major systems—air and foundation (mechanical)," explains Homer Hogg, director of technical service at TA/Petro. "The air dryer should be serviced per the manufacturer's recommended interval and the air tanks should be drained frequently. This helps keep air leaks and air valve replacements to a minimum by keeping the air system clean and dry.
"Have any air leaks inspected by a professional technician, as air leaks can be a symptom of a much bigger problem," Hogg continues. "When your air brake system is contaminated with oil, o-rings and seals inside brake valves will fail, and the truck will experience multiple valve failures over time. This can be costly in both repairs and downtime. The root cause of this issue could simply be a dirty air filter, which causes the air compressor to pass oil into the air brake system."
Air leaks can quickly lead to an OOS violation as was the case for one of the trucks Simmons inspected recently in Sneads. Another truck Simmons examined had a leak on top of an air tank and still another had an air line that was being worn away from friction as it lay across an axle without protective loom.
"The biggest thing that we see on air lines is going to be chafing," Simmons said.
Training is undoubtedly the most effective step in spotting brake problems and preventing OOS violations.
"Many fleets we visit implement stringent training programs, though there is always room for improvement," said Jonathon Capps vice president of engineering at Webb Wheel.
To aid in their efforts, Webb Wheel developed and implemented a Training Toolbox on its website and mobile app which provides free training vignettes, instructional literature, and certification tests instructing fleets on how to get the most out of the products.
"Additionally, we have developed an integrated brake surface wear indicator to take the guess work out determining when a brake drum is worn out," Capps said.
In the shop, Bendix advises that air brake system inspections should include the following, all of which relate directly to items inspected during Roadcheck:
Conducting a 90- to 100-psi brake application and listening for leaks
Measuring chamber stroke at each wheel-end to ensure proper brake adjustment
Examining friction for good condition and minimum thickness
Measuring/inspecting each rotor and drum for wear and heat cracking and/or leopard spotting
Also, check the condition of friction material for compliance, whether during maintenance or pre-trip. This means inspecting for issues including lining cracks, missing portions of the lining, oil or grease contamination of the lining and compliant friction lining thickness.
"Should you need to replace air disc brake pads or drum brake shoes, select components that will ensure the original equipment manufacturer (OEM) requirements are met, so that your vehicle remains compliant with the standards required of reduced stopping distance (RSD) braking systems," explains Keith McComsey, director of marketing and customer solutions at Bendix Spicer Foundation Brake (BSFB). "For example, not all friction that is marketed as acceptable under today's RSD regulations will actually perform to that standard, so Bendix recommends replacing like-for-like OEM friction. This is the best way to maintain your vehicle's braking performance in stopping distance and wear when replacing linings on vehicles equipped with RSD brakes."
Since brake issues account for nearly half of all OOS violations, using the right components along with taking the time to effectively train techs and drivers can go a long way to in keeping more trucks on the road and away from costly roadside repairs.
At Ryder, senior manager for national accounts technical support Art Trahan said since drivers easily spend more time with trucks than technicians they should be thoroughly trained on how to best conduct pre and post-driving inspections. Trahan, who's worked at Ryder for 42 years, has spent plenty of time training drivers for truck inspections.
"Most drivers struggle with the pre-trip," Trahan said. "When you're scoring someone that's doing the pre-trip, they may look at something but if they don't visualize it and if they don't verbalize it, that's a problem. If they don't point it out to you—show me, touch it, pull on it, do something, talk to me—you can't give them credit for it.
"When I teach how to do a good pre-trip, you over-verbalize it: try to explain to them what you're looking for and why," Trahan continues. "And there's a turnover with drivers so you may have to do it more often than you like. Or you train a driver that would be a driver-trainer and then that driver-trainer can help train them. But if you just tell someone go do a pre-trip and you never trained them as to what a pre-trip and post-trip looks like, you're not going to get very good results."