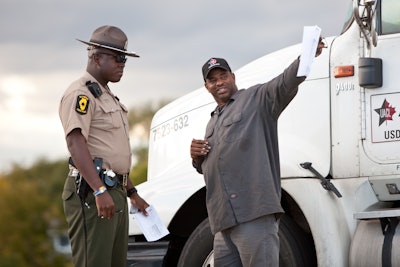 Lights and hours of service are the focus of this year's Commercial Vehicle Safety Alliance's Roadcheck blitz and for good reason. These categories have continued to rack up piles of tickets for fleets, a significant number of which have led to costly out of service violations.
Last year, inoperable lamps dominated the list of violations according to the Federal Motor Carrier Safety Administration, and led to 13.5% of overall out-of-service (OOS) violations behind brakes, which took the top spot for OOS violations at 25.8% and then tires at 19%.
Since light failures are fairly easy for inspectors to spot (they either turn on or they don't), engineering manager Kyle O'Dell at Optronics International said drivers need to be diligent about keeping up with pre- and post-trip inspections to check for outages ahead of the May 4-6 enforcement campaign.
"[Light violations] are very easy to prevent," O'Dell said. "It goes back to basic stuff. Doing a basic walk around your vehicle and trailer. Just do a simple walk around them. That's the biggest thing to get most of these violations caught. It's just a simple walk around."
Alicia Jones, global market manager at Grote Industries, said inspections should be a priority for drivers.
"Since lighting outages are easily detected, visual inspections should play a major role in a driver's daily routine checks when dropping off or picking up a load," Jones said. "Even a simple vehicle walk-around and systems check can highlight problem areas that need further attention. This will go a long way toward cutting down on violations of all kinds."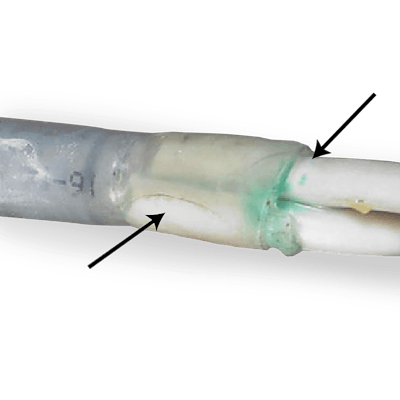 Truck-Lite marketing specialist Andrew Liuzzo said light violations can lead inspectors to take a closer look at a truck.
"As the most immediately noticeable vehicle violation, defective lighting often invites further, more thorough inspection of the rest of the vehicle," Liuzzo said. "A thorough pre-trip inspection is necessary to ensure vehicle safety. Drivers should pay particular attention to marker lighting, as inoperable lamps may often appear lit on a sunny day. In addition to being functional, intact and undamaged, lights, reflectors and reflective tape must also be clear of any dirt and debris."
Kerri Wirachowsky, director of CVSA's roadside inspection program, said whether it's lights or reflective devices – both of which fall under Federal Motor Vehicle Safety Standard 393.11 – it's imperative that drivers take the time to note an issue and report it to their carrier no matter the pressure they're under to hit the road.
"That doesn't stop him from documenting on an inspection report and calling his motor carrier and telling him it's there. It doesn't," said Wirachowsky who has roughly 30 years of truck inspection experience.
If a driver has noted the light or conspicuity tape problem in an inspection report and has notified their carrier, then they've done their part and shouldn't have much to worry about, Wirachowsky explained.
"I used to say to drivers, 'Hey, if you do everything you can to make sure that this vehicle is in good condition, which means inspect it and record the stuff you see, I'm not going to have a problem with you,'" she said. "If you record it and report it and you're getting pushed by your carrier and the carrier goes, 'You know what? It's only an ID light. We'll fix it on Friday.' Okay, that's fine. You did all you can do. And every single day you get in that truck, you document that same violation. Whether it's a cracked windshield — I don't care what it is. Your horn doesn't work, whatever."
Faulty lighting could very well end up at the feet of a carrier if left unfixed so long as the driver has documented the failure and notified the carrier.
"You do what you can do and I'll go after the motor carrier," Wirachowsky said. "If you don't do anything as a driver, then I can't get past you. It's your fault that he [the carrier] doesn't know at the moment."
An ounce of prevention
Light issues will probably continue to dominate the list of violations because, as Wirchowsky pointed out, "in defense of the driver, a light can go out anytime."
The list for light failure causes is long.
"Many different factors can contribute to lighting failure, but the most prevalent causes tend to be related to moisture intrusion, corrosion, and vibration," Jones said. "Not only is water the enemy of wiring and lighting in its own right, but the accompanying corrosion it causes can seriously damage a vehicle's entire electrical system. Vibration from the road can also cause problems by gradually loosening improperly secured lamp or harness connections or causing a ground wire to break free."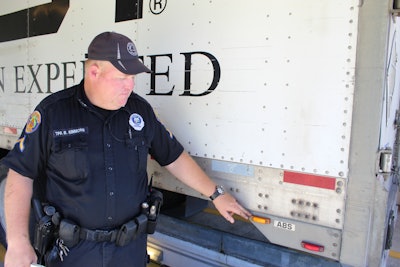 Wire corrosion issues stemming from moisture intrusion can often be traced to technicians who probe wires and leave a small hole behind for moisture to enter.
"Our USA Harness side of the business, they do see that quite often," O'Dell said. "They [technicians] want to probe that wire and when you do, you introduce a direct leak path and corrosion path into that wire."
Repair jobs can also invite an opportunity for beefing up the lighting system.
"When making a repair, be sure to replace unsealed lamps with sealed lamps for greater resistance to moisture intrusion," Liuzzo said. "Poor connections between lamps and the harness can also cause lamp failures."
Light system maintenance can increase in humid areas, or along the coast where salt levels are higher, or in areas where road salt is used to combat ice and snow.
"In regions where corrosion is a known problem, you should routinely wash salt, road chemicals and debris off of lighting components to reduce the risk of failure from corrosion," Jones said. "Avoid the use of chemicals during your cleaning maintenance, as many cleaning agents contain solvents that can degrade the plastics used in lamp housings and lenses."
LED lights have proven to be an upgrade over halogen, as they draw less power and are less susceptible to failure.
"Typically we're not seeing the LEDs fail as much," O'Dell said. "They're much more robust to vibration, shock and temperature variations. So we're not seeing those failures, but you will see some of those same failures at the connection points to the main harness depending on how they're tied into the harness."
The cost of upgrading to LED lights will pay off in the long run, O'Dell explained.
"It is a higher cost up front, but when you look at total cost of ownership and return on investment, LEDs are actually cheaper in the long run and give you a better return on investment because you don't have the downtime that you do with incandescent. You don't have to replace bulbs."
Hours of service woes
The results from CVSA's Roadcheck last year didn't pack a lot of surprises. Topping the list again for drivers were hours of service mistakes, which accounted for roughly 33% of all OOS violations.
Wirachowsky said misuse of personal conveyance — whether intentional or not — is the number one cause for HOS blunders.
[Related: At roadside, inspectors are asking more drivers, fleets to transfer e-log data remotely]
"The biggest problem now is they're misusing personal conveyance by far," she said. "That is the biggest problem that I'm hearing from inspectors and logs that I see. And they're getting charged with falsification when they do that and put out of service."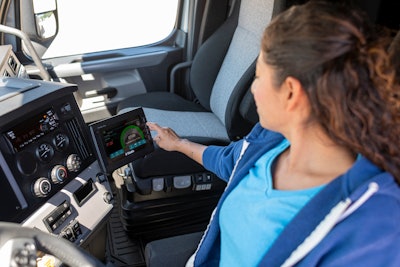 Mike Ahart, vice president of regulatory affairs at Omnitracs, pointed out that while HOS violations continue to drop year-over-year with increased and well-managed ELD use, some drivers continue to misuse personal conveyance, which makes it critical for carriers to educate and set boundaries for personal conveyance based on FMCSA guidance.
"Motor carriers should be supplying clear boundaries," Ahart said, otherwise drivers will.
"What happens is that drivers take it on themselves to choose when they are going to be in personal conveyance," Ahart continued, "and certainly they choose it to their own benefit because drive time doesn't get recorded. It's off duty. But when they get pulled over, it's going to be a question as to whether or not that is acceptable to the enforcement officer based on FMCSA guidance."
Frank Stowers, product manager for Trimble Transportation, said training drivers on proper ELD use plays a critical role in improving fleet efficiency and lowering the risk for infractions.
"Training is a key component of helping fleets most effectively utilize ELDs to maintain compliance and productivity," Stowers said. "For drivers, this means helping them understand the ins and outs of the mandate as well as how to use an ELD in-cab. Not only can this help reduce potential violations, but also allow for activities like roadside inspections to go smoothly."
Wirachowsky said she's been getting a lot of calls from drivers that are confused about personal conveyance. She's also hearing from inspectors.
"What I'm hearing from a lot of inspectors is that drivers are using personal conveyance for seven or eight straight hours," she said. "I don't know that they're necessarily doing it with the thought that they're being unlawful about it. I think there's just a misconception out there a little bit about when and how it can be used and they're getting caught."