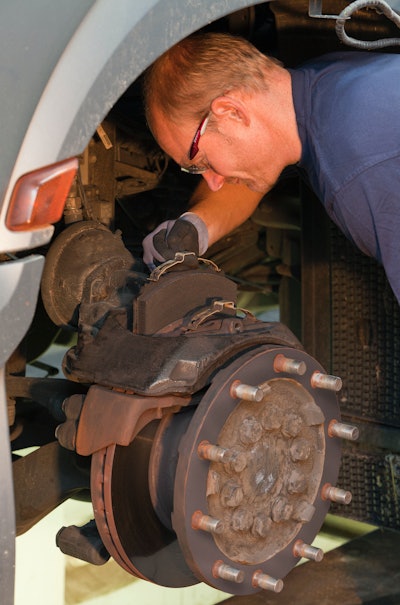 The following was published in CCJ's Air Brake Book, 11th edition, sponsored by Silverback HD. CCJ's Air Brake Book is a complementary industry resource courtesy of our partnership with Silverback HD, the Technology and Maintenance Council and Commercial Vehicle Safety Alliance. You can download the entire Air Brake Book here.
Electrification and hydrogen shoulder much of trucking's potential to become a more environmentally friendly industry, but many fleets have already taken a green leap and may not have even noticed.
As of 2021, brake manufacturers were required to reduce the amount of copper used in their friction material to meet the copper-free brake pad agreement reached in 2015 between the U.S. Environmental Protection Agency, California and Washington State and industry representatives.
The agreement calls for reducing the amount of copper used in brake pads to less than 5% by weight (B-Level) on Jan. 1, 2021, and 0.5% (N-Level) by Jan. 1, 2025. Copper, the EPA said, is a primary pollutant of concern found in highway stormwater runoff, impacting aquatic life and water quality. The initiative also reduces mercury, lead, cadmium, asbestiform fibers and chromium-six salts in brake pads.
"Copper provides good thermal conductivity and heat dissipation to brake pads," said Dhawal Dharaiya, engineering supervisor for Hendrickson Wheel End and Braking Systems. "In addition, copper plays an important role as a solid lubricant that helps generate a friction film during braking application to provide good wear characteristics. Materials that will eventually replace copper in brake pads must fulfill the complex properties that copper demonstrates in current formulations."
ZF Commercial Vehicle Controls Systems Division Engineering Director Dirk Wohltmann added that since copper wears and oxidizes at high temperatures, it helps provide for better overall pad wear.
Because copper generally is softer, it impacts rotor wear to a lesser degree than other metals, said Keith McComsey, director of Air Disc Brake & Systems for Bendix. "The reduction in copper for future pad formulations will have to be replaced with other materials that do a similar job without adversely affecting the pad friction performance," he said.
Joe Kay, director of Brake Engineering for Meritor, said a brake's friction formula has many compounds that make up a sophisticated recipe. Copper replacement in brake pads remains a topic of ongoing research, and many of the replacement materials and approaches to formulations are proprietary.
"There is actually one metal that can act as a substitute for copper, and that is silver," Wohltmann said, "but this is not a cost-effective solution."
The one constant that all manufacturers face is that stopping distance laws have not changed. New materials with reduced or no copper must meet current laws, and those updates will need to come without sacrificing component life.
"Wear and life of new pad materials will be dictated by new ingredients replacing copper," Dharaiya said. "Apart from formulations, wear life is always subject to a variety of factors, such as driving habits, environmental conditions, duty cycle and tractor-trailer brake combination, among others."
Copper is typically substituted by iron, Wohltmann said, as it is the cheapest metallic material available with reasonably comparable physical properties. However, he said it is not a direct one-to-one substitution, as simply replacing the copper with iron provides insufficient performance in wear rates and stopping distances.
"To try to maintain the level of performance of copper-based friction, the entire formulation of a low- or no-copper brake pad must evolve, for instance, by also utilizing a more complex group of materials for the lubricants and modifiers," he said. "In short, copper removal is a cocktail of complex problems and countermeasures."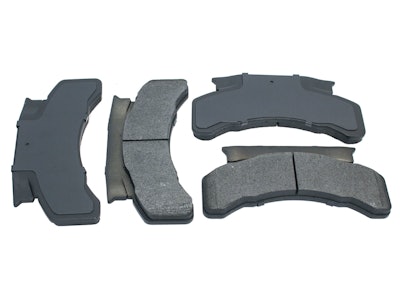 McComsey said Bendix is working to ensure the continual optimization of the friction's performance "relative to both the stopping performance as well as the pad and friction wear performance to maximize the life of the friction/rotor interface."
Kay said Meritor spent more than two years developing a formula to meet the new standards, progressing from laboratory to FMVSS test tracks to fleets. The company conducted comprehensive lab testing and more than 2.4 million miles of field testing. "In the end, the MA9300 friction demonstrated superior pad wear and similar rotor life compared to Meritor's current offering," he said.
Many commercial vehicle OEM formulations for drum brakes already meet 2025 requirements for reduced copper, Dharaiya said, adding that all Hendrickson drum brake offerings are copper-free.
"Drum brakes absorb and dissipate a much smaller amount of heat energy per unit area of available friction patch, which makes it more feasible for drum brake linings to be produced with little to no copper," he said.
Kay said Meritor's drum brake friction formulas already meet N-Level compliance, as drum brakes tend to operate at lower temperatures, which allowed non-copper formulas to be used.
"Drum frictions typically were classified as non-asbestos organic frictions (NAO), which came at a reduced copper level," McComsey added. "There are some semi-metallic frictions used to meet current levels, but [they] might need to be reformulated to meet the N-Level friction compliance for 2025."
Even though only two West Coast states are tied to the agreement, brake manufacturers will have to roll out compliant friction material nationwide to avoid having brakes that are compliant only in select states.
McComsey said Bendix air disc brake (ADB) pad offerings that meet the current mandate for B-Level friction will be used in all ADB configurations in North America, adding that "we will also support the aftermarket in the same manner." The A-Level frictions that once were available prior to Jan. 1, 2021, will be obsoleted and replaced with B-Level equivalent pads for both OES and AM replacement pad kits. The company also is actively developing friction material for its ADBs to meet N-Level friction by its implementation date four years from now.
Randy Petresh, vice president of technical services for Haldex, said the company will similarly introduce its revised material formulations on a national basis, not state-specific, and would meet both B- and N-Level deadlines.
N-level friction for all Meritor disc brake products – EX+LS, EX+L, EX+H and Quadraulic – were 2025 copper-compliant by the end of 2020, including MA9300, MA9500 and MA704, for truck and trailer applications.
"Meritor will convert to N-Level formulas as the only offering," Kay said. "Formulas meeting the N-Level friction make it simpler for the vehicle OEMs and also aftermarket parts. We prefer to make it easier for our customers to keep them compliant no matter where their vehicle is purchased, used and service conducted on them."