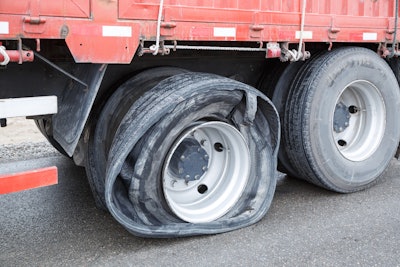 Driving a vehicle safely is a combination of several abilities. Hand-eye coordination and fine motor skills are likely a couple of the most important, but there's a host of others. For example, vehicle maintenance; namely, changing a tire.
U.S. Tire Manufacturers Association recently partnered with Discount Tire and Ipsos on a survey showing drivers lack knowledge about tire safety, specifically pressure, tread and rotation. The survey revealed that 48% of drivers don't know how often to check tire pressure, including 3% who believe they never have to check it; that 53% of drivers don't know how to check tread wear to determine if tires show signs of damage and need to be replaced; and 53% of drivers don't know how often to rotate their tires.
Before I ever got a learner's permit, my dad and granddad made sure I knew how to change a tire. Not just "This is how you do it," but "Take this tire off, find the spare, and put it on." Proper inflation, how to find the OEM recommended inflation level, and how to properly use and read a stick gauge were sub-lessons in the tire crash course, as was when and how to rotate tires. That lesson went a lot like this; "Now that you have the tire off, put the spare back up and swap the front and rear tires. You'll need to do this again in about six months."
[Related: Tire testing can cut costs but isn't for the faint of heart]
That tire violations are among the top 5 vehicle out of service violations – they were No. 2 the last three years – motor carriers certainly have some room to improve as well.
According to the American Trucking Associations' Technology & Maintenance Council, running on a tire that's underinflated by just 10% can reduce fuel economy by 1.5%. At 20% underinflation, in addition to lost miles per gallon, the effects include a roughly 30% reduction in tire life. About 90% of tire blowouts are the result of underinflation, according to industry studies, due to the increased stress and higher running temperatures experienced by an underinflated tire.
For car drivers that think they don't need to check the pressure in any of their four tires, you have to wonder what they think about having 18 of them, most in a dual configuration.
"Even if there's a difference of just 5 psi between two tires on the same wheel-end, one tire winds up carrying a greater share of the load and doing more work," said Guangning Zhao – product group director, Anti-Lock Braking Systems at Bendix. "As the tire assembly rotates, the tire with the lower pressure – being slightly smaller – will drag, causing premature wear and shortened tire life while increasing the odds of a blowout on the higher-pressure tire."
Bob Rutherford pointed out last week, inflation is a key contributor to jackknife tractor accidents.
Each year, USTMA sponsors Tire Safety Week – an initiative aimed at providing information on the essentials of proper tire care and maintenance. Clearly, an educational push is needed. According to USTMA's survey, 70% of drivers across the U.S. reported not checking tire pressure in the 30 days before striking out on a long-distance trip, despite the industry recommendation to do so at least once a month.
"Safety, stopping distance, fuel efficiency, operating costs, and tire life are all directly affected by running on properly pressurized tires," said TJ Thomas, Bendix controls marketing and customer solutions director. "Additionally, as a growing number of fleets and drivers discover the advantages of air disc brakes and advanced, integrated collision mitigation technologies, it becomes that much more important to remember that properly inflated tires are crucial to realizing the full performance benefits and protecting their investments."
My guess the amount of tire apathy in the passenger car segment is that a rudimentary TPMS system is standard on many vehicles, but the information it gives the driver is reactionary.
Fleets often also use TPMS system data to more effectively address issues such as tire failures on the road and frequent tire replacements, thus helping to shape a better tire strategy and maintenance plans. Even if you're equipped with an ATIS system, there's no substitute for a stick gauge and a regular checkup.
"No technology on the road today is a replacement for a skilled, alert driver exercising safe habits and supported by proactive, comprehensive driver training, and safe operation of any vehicle remains with the driver at all times," said Thomas.