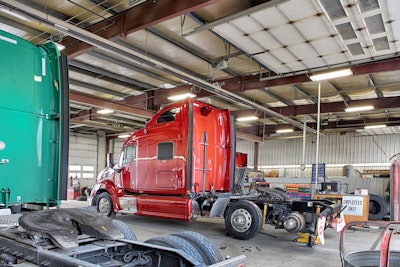 Trucking news and briefs for Tuesday, July 27, 2021:
FTC cracking down on 'right to repair' violations
In a policy statement issued earlier this month, the Federal Trade Commission said it will begin devoting more resources to combat unlawful repair restrictions from OEMs.
The FTC said it will now prioritize investigations into unlawful repair restrictions under relevant statutes, such as the Magnuson-Moss Warranty Act and Section 5 of the Federal Trade Commission Act.
"Restricting consumers and businesses from choosing how they repair products can substantially increase the total cost of repairs, generate harmful electronic waste, and unnecessarily increase wait times for repairs," the Commission said in its statement. "In contrast, providing more choice in repairs can lead to lower costs, reduce e-waste by extending the useful lifespan of products, enable more timely repairs, and provide economic opportunities for entrepreneurs and local businesses."
To help crack down on unlawful practices, FTC is encouraging the public to submit complaints and provide other information to help with enforcement of the Magnuson-Moss Warranty Act and its implementing regulations.
The Commission added that while current law doesn't provide for civil penalties against violators of the Magnusson-Moss Warranty Act, it will consider filing suit against violators to seek injunctive relief.
"The Commission will also closely monitor private litigation to determine whether the Commission may wish to investigate a pattern of unfair or deceptive acts or practices or file an amicus brief," FTC added. "Further, the Commission will explore rulemaking, as appropriate."
Family-owned carrier Woodfield expands operations with acquisition
Woodfield Inc., a family-owned fleet with 123 trucks, has acquired the assets of East Texas-based Excalibur Transportation Group.
"Strategically, a presence in Texarkana would be beneficial for all our futures," said Woodfield owner Jimmy Starr. "Excalibur provided a good amount of service in the East Texas area for over 20 years, and we're going to continue that service by growing our regional division."
The recent acquisition complements Woodfield's new regional operations center and dispatch office opened at TexAmericas Center's East Campus just last month.
All the drivers that were employed by Excalibur were offered the same positions, routes, existing trucks, and seniority dates they had previously, to transfer to Woodfield Trucking. The fleet staff has been retained, as well. The Excalibur equipment acquisition includes 21 tractors and 41 trailers.
Columbus Kenworth opens new parts, service dealership
Columbus Kenworth is offering expanded support to truck owners and fleets in central Ohio with the addition of its new parts and service dealership in Zanesville, Ohio.
Kenworth of Zanesville, a division of Columbus Kenworth Inc., is approximately one hour east of Columbus. The new dealership is conveniently located along Interstate 70.
The 24,000 square-foot building is situated on 25 acres with plenty of room for drivers to park their trucks. The facility features 12 service bays and a 1,100 square-foot parts retail display area. There is also a 10,900 square-foot space allocated to bulk storage, allowing for ample parts availability.
Kenworth of Zanesville is located at 3925 All American Way in Zanesville. Hours of operation are from 7 a.m. to 5:30 p.m. Monday through Friday and 8 a.m. to 12 p.m. on Saturday. The phone number is 740-487-4295.