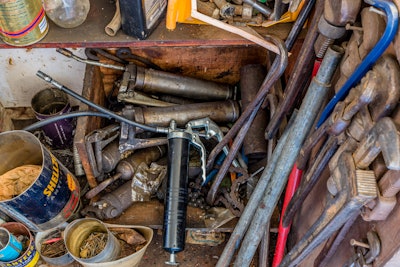 There are a lot of lubrication points on a truck and trailer, leading many fleets to carry multiple greases to meet the various requirements of each component. However, many experts agree that fleets often stock too many greases when fewer multi-purpose lubes can accomplish the same job for less expense.
"I can't tell you how many times I've seen that fleets may have three or four different greases that they're using on the same piece of equipment," said Paul Cigala, Exxon Mobil commercial vehicle lubricants applications engineer. "Chassis grease, fifth wheel grease, whatever they're using on the trailer – a lot of that can be combined."
While there can be reasons a specific grease is required for a given component, Cigala said there's usually an opportunity for at least some consolidation.
"One for the under-chassis, one for the fifth wheel, and one for the trailer axle hubs, which is actually a semi-fluid grease," added BP/Castrol Field Engineering/Heavy-Duty Technical Services Manager Jami Melani. "Actually, you can probably do it very effectively with no more than three greases."
For example, an ASTM D 4950 GCLB grease can be used on the chassis and wheel bearings that don't call for double-aught (00) grease, said Shell Lubricants OEM Technical Services Manager Stede Granger.
"Could there be a better grease for some of the items? Yes," he said, noting it could even be used on the fifth wheel, although it would require more frequent grease intervals compared to a standard fifth wheel grease. "But if you've got to go with one grease, [an ASTM D 4950 GC-LB grease] does it all."
Greases approved for the NLGI Certification Mark GC-LB include a variety of tests performance requirements including wear protection and operating temperature range.
Consolidating greases can not only save money, but also simplify matters for technicians.
"Everybody wants to have it as easy as possible," said Cigala. "One less thing that they have to worry about: 'This piece takes the blue grease and this piece takes the red grease.'"
Grease color often tends to follow popular trends within the industry. For example, bright blue grease was once popular among technicians and industry professionals. However, Petro-Canada Lubricants OEM technical liaison Darryl Purificati said the colors are typically only related to the dye used by the individual brands, which helps provide brand recognition and marketing, and doesn't have an impact on the performance of the grease itself.
"The more important grease characteristics are thickener type, NLGI Grade Consistency, base oil viscosity, extreme pressure anti-wear protection, water wash out resistance and operating temperature range," said Chevron Lubricants Industrial and Coolants Brand Manager Dan Holdmeyer. "Most on-highway fleets utilize lithium complex thickened grease and thus staying with that will help with compatibility of greases used."
NLGI Grade 2 greases are generally used except where a centralized greasing system is employed where a softer grade grease is recommended to enable better pumpability. The trailer axles will use a semi-fluid grease.
"It's vital to have the correct grease in the right grease point, in the correct amount at the right time," Purificati said. "Each truck has its own unique requirements which means that a 'one grease fits all' philosophy is often not possible."
Melani suggested fleets interested in consolidating grease type speak to the technical support staff of their lubricant provider.
"They will be able to share their insight into how you can safely reduce the number of greases in your workshop without compromising the protection of your hardware to help keep your fleet on the road and prevent unplanned downtime," Purificati said.
When making a change from one grease to another, Holdmeyer recommended first checking for compatibility between the greases and then monitor performance for the next couple of grease intervals to make sure equipment is being protected.