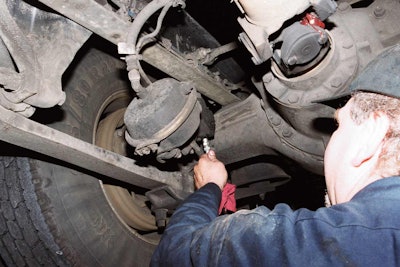 Under- and improper lubrication are primary causes of component premature failures.
The application of grease not only keeps parts lubricated, it also helps keep out and flush out contaminants and moisture.
There are more than 40 lubrication points on a commercial truck chassis, each with different requirements, but CITGO Senior Lubes Product Specialist Steven Bowels says non-sealed U-joints are among the most neglected lube points on the tractor.
"They get a lot of contamination – water, road dirt, salt – the seals are susceptible to failure, which allows grease to escape and contaminants to get in, and they are sometimes overlooked when the truck is in for service," he says.
"Because they're under the hood," adds ExxonMobil CVL Applications Engineer Paul Cigala. "Most shops still have pits where the guy is doing service from underneath and may not pop the hood."
Cigala says any lubrication points the mechanic can to get from underneath the truck and trailer seem to get the required attention.
"It's that stuff that is above the tires or under the hood that seem to be the areas that are most frequently missed," he says.
Stede Granger, OEM technical services manager for Shell Lubricants, says another overlooked lube point isn't on the truck at all. It's behind it.
"The driver seems to have a very good attachment to the tractor," Granger says, "but not on the trailer bearings because he or she may be pulling different trailers, so he or she doesn't take real ownership of that."
Granger suggests fleets use a long-life lube on trailer bearings, preferably a grease versus an oil.
"It's absolutely imperative that you get the bearings adjusted properly to OEM specs or TMC recommended practice specs," he adds. "I have spoken to fleets that have a certain number of lost trailers. They have no idea where the trailers are. If that's the case, if you lose a trailer, how are you going to do regular maintenance?"
Another often-neglected lubrication point is the king pins, which can be a problem because of heavy loads on the front axles.
"If a truck comes in and has a trailer on it, a lot of guys won't spend the extra time to jack the pressure off of that pin so it can accept grease," he says. "That's an area we see that basically gets passed over."
Cigala says another critical point are the fifth wheel pins where the fifth wheel connects to the chassis.
Many shops perform all their lube work at once, but with service intervals for engine oils, transmission fluids, and axle fluids lengthening and many greased components "fill for life," James Booth, Chevron Lubricants North America commercial sector manager, says that service sequence has been disrupted.
"Under this culture of leave it for longer, a number of greased components which are not fill for life can get overlooked, notably the fifth wheel," he says. "There are newer firth wheel designs that are trying to move away from the dependency on greases, but the majority still need some."
With road temperatures now regularly hitting 100 degrees, Booth says that puts extra stress on lube.
"With greases, high summer temperatures generally require a stiffer, higher NLGI Grade grease versus the winter," he says. "Re-greasing is also affected by the season, with the really hot months requiring more frequent re-lubrication as well as some of the winter months when driving through a lot of snow and salt."
With so many lubrication points and various requirements for each, fleets are left with choosing to stock multiple grades or finding an acceptable multi-purpose grease.
"If you picked out the absolute best grease for the truck, you'd probably pick out more than one," Granger says. "Probably two or three."
Ron LeBlanc, Sr., senior technical advisor at Petro-Canada Lubricants, says a high-quality grease can be used for all chassis and fifth wheels, but the industry is moving toward synthetic lubricants for wheel end and other lubricated parts.
Having more than one grade of grease means the wrong one will eventually be used in the wrong application, so many fleets have sought a one-stop solution.
Bowels and Cigala say a good NLGI 2 Lithium Complex grease can handle most lubrication points except for the trailer wheel ends, which typically require gear oil or an NLGI 00 grease.
In searching for a multi-purpose lubricant, Granger says to resist the temptation to use greases developed for heavy construction equipment and advises fleets to look for a label that has the ASTM D 4950 LB-GC standard.
ASTM D 4950 includes specifications for both chassis lubricants (L) and wheel-bearing lubricants (G), and LB and GC are the highest performance category in each group.