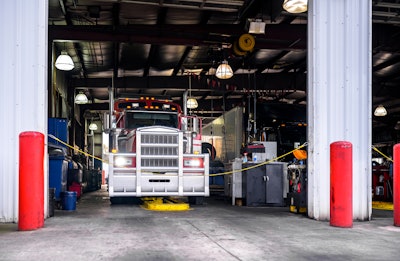 Unexpected downtime is every fleet owner's worst nightmare.
A disabled truck stranded on the side of the road creates a chain reaction of cost and inconvenience.
A driver who might be paid per mile has been temporarily prevented from earning his or her wage. A shipment the truck is carrying has been delayed. The fleet manager must arrange a roadside repair or a tow depending on the nature of the repair or the truck's distance from the nearest service station – a significant cost on its own. Finally, a key asset is sidelined and unprofitable while those repairs are made.
This kind of repair and maintenance represents a significant portion of a fleet owner's total cost of ownership.
According to a recent report from the American Transportation Research Institute (ATRI), "An Analysis of the Operational Costs of Trucking: 2020 Updates," maintenance costs consistently make up between 8% and 10% of a fleet's average marginal cost per mile, and have done so over the past decade. 
Breakdowns can be kept to a minimum as long as a fleet owner stays on top of vehicle upkeep, including regular service with high-performance engine oil.
To that end, the most recent API engine oil performance level for heavy-duty lubricants (CK-4 and FA-4) ensured that a new generation of formulations provided the proper levels of performance demanded by modern engine technology — including improved oxidation control, shear stability and aeration performance.
So, is it reasonable to believe that as long as your lubricant is marked with the API CK-4 donut, you're doing all you can to maximize the reliability and long-term performance of your engines? Not necessarily. 
Lubricant choice in North America
The market has long held that a thicker viscosity oil can better protect an engine than a thinner oil.
When looking at the most prominent viscosity grades in the marketplace today, 81% of heavy-duty diesel lubricants sold in the North American market are 15W-40. No other available grade breaks the 10% threshold. 
As lubricant and additive technology has advanced, it's been clearly shown that well-formulated, lower-viscosity lubricants can provide the needed levels of protection. The proof exists within the performance level of CK-4 and FA-4 engine lubricants themselves. All lubricants that meet the API performance levels, no matter the viscosity grade, must demonstrate the same high levels of baseline performance to ensure engine protection. 
Consider also that North American OEMs factory-fill most new-model engines with 10W-30 grade lubricants, indicating their confidence that lower viscosities are a beneficial choice and ideal for modern engine design.
For fleet owners that have continued to use 15W-40 lubricants, it's worth considering making a switch to remain consistent with your OEM's specification, and to seize some significant operational advantages. 
The fuel efficiency benefits of lower viscosity
Research and testing demonstrate that there are clear fuel economy benefits from selecting lower-viscosity grades. 
By enabling engines to run more efficiently, lower viscosities can lead to some attractive fuel economy gains. According to "Trucking Efficiency Confidence Report: Low-Viscosity Engine Lubricants," a joint report from the North American Council for Freight Efficiency and Carbon War Room, the benefits of upgrading to available low-viscosity lubricants are clear cut.
"Class 8 over-the-road fleets can realistically expect fuel savings in the range of 0.5%–1.5% by switching from 15W-40 to 5W/10W-30 engine oil," the report says. 
Per the ATRI Trucking Review, fuel costs represent 24% of a fleet's average cost per mile and are a prime target for reduced spending. Combined with their ability to make an impact on a fleet's maintenance spend, there is significant opportunity for owners to reduce total cost of ownership by switching to a lower-viscosity formulation fleetwide.
Going further with FA-4
FA-4 lubricants meet all the same performance criteria as their CK-4 counterparts but can deliver enhanced fuel economy benefits for heavy-duty engines model years 2017 or later. "The savings from switching to the fuel-efficient FA-4 variant … can be expected to add a further 0.4%–0.7% of increased fuel efficiency," according to the Trucking Confidence Report.
As older trucks age out of fleets and an increasing number of late-model engines enter the marketplace, FA-4 lubricants are increasingly applicable. Any investment in new vehicles should come with a thorough consideration of FA-4 lubricants, especially if specified by your OEM.
Making the switch
Choosing a new lubricant for fleetwide service is a decision that owners may not arrive at lightly, and it should begin with conversation and collaboration with your oil supplier.
Before making the switch outright, some initial testing may be beneficial to see how lower-viscosity lubricants can benefit your unique operational needs. And if you're already using lower-viscosity CK-4 formulations, consider what's possible by taking the next step with FA-4 lubricants.
We have been working carefully with OEMs and oil marketers for many years to ensure that lower-viscosity formulations can provide the engine protection you need with the right additive chemistry and technology. Conventional wisdom may favor thicker oils, but the low-viscosity future is upon us. Don't get left behind. 
Greg Matheson is product manager of heavy duty engine oils for The Lubrizol Corporation.