Colorado carrier chooses EOBRs over fine
Agency uses settlement process to push technology
The Federal Motor Carrier Safety Administration announced Nov. 4 that it had ordered Greeley, Colo.-based JBS Carriers Inc. to install electronic onboard recorders or pay $81,780 in civil penalties. The settlement agreement requires JBS to install EOBRs on its entire fleet of more than 700 commercial trucks by March 2011.
"We will not tolerate commercial carriers that put people at risk by placing unsafe, unlicensed drivers behind the wheel and evading hours-of-service rules," said U.S. Transportation Secretary Ray LaHood.
In the final settlement agreement issued by FMCSA on Oct. 7, the agency cited JBS Carriers for 102 counts of falsifying drivers' hours-of-service records and three counts of allowing drivers with a suspended, revoked or canceled commercial driver's license to operate a motor vehicle. JBS Carriers also must train current and future drivers on the proper use of EOBRs and develop a safety management system that incorporates EOBR data into drivers' hours-of-service oversight.
Although JBS Carriers is the largest carrier in recent years to agree to install electronic logs in lieu of paying a hefty fine, it is not the only one to do so this year. In recent months, several trucking operations have chosen to settle large claims related to hours-of-service violations by agreeing to install EOBRs. Blenker, Wis.-based deBoer Transportation actually faced a slightly larger fine than JBS Carriers, but it agreed in late September to install EOBRs on all of its 422 trucks by Jan. 1, 2013. The trucking company already had installed EOBRs on 137 trucks as of the date of the settlement agreement. For its part, FMCSA will forgive more than $67,000 of the $83,840 penalty.
Another carrier, Noblesville, Ind.-based Perkins Specialized Transportation, in mid-July agreed to install EOBRs on all 198 trucks in its fleet by Sept. 1. FMCSA in turn agreed to forgive nearly $53,000 of a proposed civil penalty of more than $75,000.
Study: Cell phone bans curb accident risk
Motor carriers with the highest safety performance records also are likely to have stringent cell phone use policies, according to the Strength in Numbers Fleet Benchmarking Study sponsored by the Network of Employers for Traffic Safety. The study of company vehicle fleet crash rates found that leading performers were more likely to have a total ban on mobile phone use, and 6 of the 8 leading companies also were more likely to terminate a driver for violating the company's mobile device policy. In addition, 8 out of 9 of the top ranking fleets regularly review drivers' mobile phone records after a crash to determine if the driver was using a phone at the time of the incident.

The yearlong benchmarking study examined fleets from 45 leading companies in the pharmaceutical, oil and gas, food and beverage, telecommunications, transportation, package delivery and insurance industries. The companies, including 27 in the Fortune 500, operate a combined fleet of more than 400,000 vehicles that logged more than 8 billion miles in 2009. The study participants' crash rate per million miles (CPMM) ranged from less than one to nearly 12.
IN BRIEF
* The Truckload Carriers Association announced that its 2010 Highway Angel of the Year is Shawn Hubbard, a driver with Ruan Transport Corp. of Des Moines, Iowa. Hubbard saved the life of a young man trapped inside a burning car on the morning of Nov.13, 2009. Hubbard will be recognized Dec. 18 at the uDrove Humanitarian Bowl in Boise, Idaho.
* The U.S. Department of Transportation launched "Faces of Distracted Driving" at www.distraction.gov/faces, an online video series featuring people who have been injured or have lost loved ones in distracted driving crashes. DOT is encouraging others who would like to share their experiences to post videos on YouTube and e-mail the links to https://distraction.gov/.
* Sleep HealthCenters entered into an agreement with Roadside Medical Clinic + Lab to provide sleep medicine services, including education, professional diagnosis and treatment support, all incorporated into Roadside's overall Driver Wellness program.
* The Federal Motor Carrier Safety Administration placed Mid-Florida Extraditions of Melbourne, Fla., out-of-service and fined the company $2,170 for violating hours-of-service and insurance requirements. The agency also placed Pegasso Caballero Tours of Houston out-of-service and fined the company $1,470 for violating vehicle maintenance requirements.
* Virginia initiated a pilot program to provide additional truck parking along the Commonwealth's interstates using undeveloped properties owned by the Virginia Department of Transportation. The first sites opened Nov. 8 and were to be available 24/7 for 90 days, followed by a 60-day evaluation period.
PREVENTABLE OR NOT
One-way ticket to bad day for Doe
On a sunny Friday afternoon, John Doe was maneuvering his straight truck down Butafooco Boulevard, a one-way thoroughfare in Bear Paw, S.D., daydreaming about his impending weekend visit to the Harley Davidson dealership where he planned to buy an "almost-new" black leather saddlebag from Billy Bob, the shop's mechanic.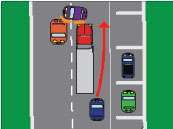 Doe had just passed some parked cars, on his right, and was cautiously approaching the intersection with Main Street, keeping an eye on the traffic signal that, for the moment, remained encouragingly green. At that instant, Mrs. Mattie Crowly-Bubkis, who was stuck behind Doe, decided that the nasty ol' truck was moving too slowly.
Fearing that she'd be caught at the intersection by a red light, Crowly-Bubkis became impatient and accelerated her 2004 performance-tuned purple Porsche around the right side of Doe's rig and, losing control, ended up sideways, right in front of poor Doe's bumper! The Porsche then was stopped dead in its tracks – after impacting the right front fender of a rusty Chevy van piloted by Gramps Grumbley, who'd been pacing Doe in the left lane! Next, Doe's truck slammed into the side of the stationary luckless sports car.
After Doe contested the preventable-accident warning letter from his safety director, the National Safety Council's Accident Review Committee was asked to render a final decision. NSC immediately upheld the preventable judgment, noting that Doe should have kept an eye on his right-side mirror. Had he done so, he could have avoided smashing into the maniacal Crowly-Bubkis. n