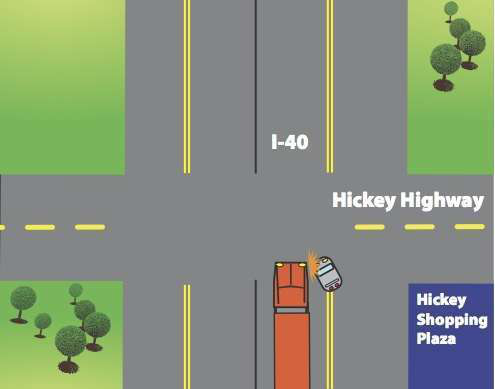 Revitalized by coffee and a stack of high-fiber waffles – with noncholesterol butter, diet syrup and a side order of lowfat bacon – trucker John Doe pulled out of Snardley's Truck Stop with a smile on his face, a fresh bag of celery sticks at his side and happy thoughts of weekend bass fishing in his head.
The sun was shining on Interstate 40, the morning air was crisp, and the CB chatter was especially entertaining. At the moment, Channel 19 was being dominated by doubles driver Dudley Hill, who'd just concluded a demonstration of his newly acquired duck call and now was extolling the virtues of L.C. Smith double-barrel shotguns. "Ol' Dudley really quacks me up," Doe mused.
After making his exit, Doe approached the intersection with Hickey Highway, where he cautiously checked his mirrors, activated his turn signal, moved into the inside lane and slowed to about 20 mph, preparing to make a left turn. At that instant, an SUV driven by retired roofer Clyde J. Crumbquist recklessly rocketed out of the adjacent shopping mall, zipped across the right lane and … BLAM! … crashed into the right fender of Doe's truck!
The second blow that Doe received was a warning letter for a preventable accident, which he contested. Rendering a final decision, the National Safety Council's Accident Review Committee ruled in Doe's favor, deciding that he had no time to react and could not possibly have anticipated or avoided Crumbquist's crazed attack.