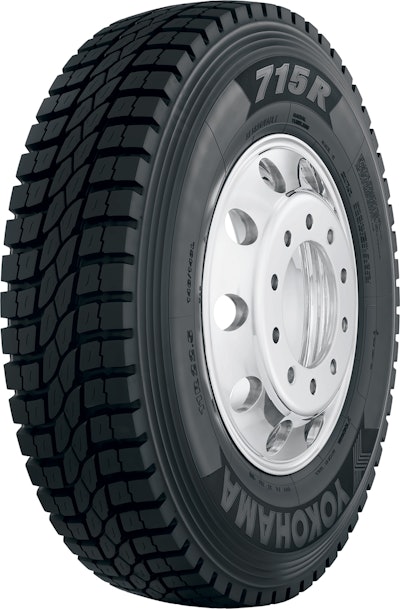 Yokohama's 715R open shoulder regional drive tire meets will now carry the three-peak mountain snowflake symbol on the sidewall, signaling it meets the industry's required performance criteria for severe snow service.
Manufactured in the U.S. at Yokohama's plant in West Point, Mississippi, all four sizes of the SmartWay-verified 715R – 11R22.5, 295/75R22.5, 285/75R24.5 and 11R24.5 – will carry the designation.
Other benefits of the 715R, according to Yokohama, are longer wear, which is achieved by a deep 26/32-inch tread pattern, along with an advanced tread design featuring strategically placed tie bars that control block movement and significantly minimize heel/toe wear; maximum traction thanks to sturdy, open shoulder blocks that are precisely spaced and help minimize the retention of foreign objects; fuel efficiency, which is ensured by Yokohama's exclusive compound that's cut and chip resistant and reduces rolling resistance for a more efficient operation; and higher load capacity, provided by 16-ply construction and an H load-rating means carrying heavier payloads with ease.