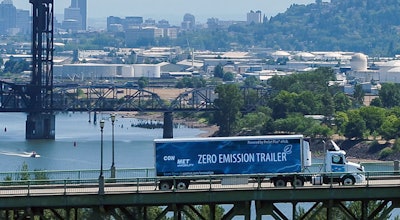 ConMet on Sunday debuted its zero-emission electric trailer at the Technology and Maintenance Council Fall Meeting & Transportation Technology Exhibition, in Cleveland.
An in-wheel electric motor is paired with a ConMet PreSet Plus hub assembly, engineered to capture wasted braking energy and repurpose it as electricity. The electricity is stored in a high-capacity, lightweight battery that sits beneath the trailer, which then powers the electric reefer to keep a fully loaded trailer cool without the need for diesel fuel. The energy can also power the eHub motors for robust, decentralized propulsion of the vehicle, while allowing quieter navigation in restrictive urban routes, the company said.
"The eHub system is now the most efficient way to completely replace the need for internal combustion engines in transport refrigeration units," said Marc Trahand, Vice President and General Manager of ConMet eMobility.
The eHub was first debuted in 2019, but the newly updated design has been simplified for modularity, a better mechanical fit, manufacturing scalability, and updated software controls, ConMet said.
ConMet eMobility, established last year, identified TRUs for the first eHub application as the California Air Resource Board (CARB) is set to enact a new set of regulations on TRU emissions by 2025, with more states expected to follow in the coming years.
The system can be retrofitted or factory-fit. ConMet said it is already in negotiations for a commercialization partnership to provide zero-emissions packages nationwide. The company is also currently offering fleets the opportunity to trial the eHub. Interested fleets can email [email protected].