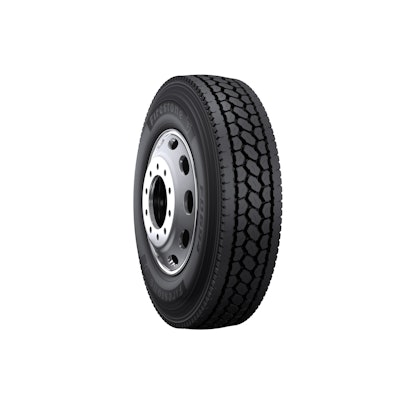 Bridgestone introduced the Firestone FD694 drive tire for long haul and regional truck applications, featuring Firestone's deepest on-highway tread pattern designed for excellent removal mileage and even wear. Other innovations featured in the Firestone FD694 are designed to promote traction, protect against road hazards, and enhance retreadability.
The Firestone FD694 drive tire is currently available in a 295/75R22.5 size and will soon be available in three additional sizes: 11R22.5, 11R24.5, and 285/75R24.5.
The FD694 drive tire offers the following key features and benefits:
A deep and high rigidity tread pattern with a solid shoulder design that offers long, even wear across a wide range of applications.
A wear-resistant tread compound designed to deliver exceptional mileage.
A cap/base compound engineered to enhance retreadability by protecting the casing from heat while promoting excellent mileage.
Wide shoulder and center grooves to help provide solid grip on wet roads.
A dependable casing optimized to fight irregular wear and featuring stone rejector platforms to help protect against hazards penetrating the belt layer.