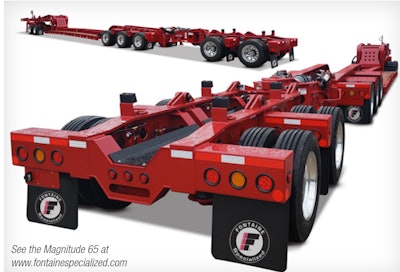 Fontaine Specialized announces its versatile and adaptable Magnitude 65 lowbed trailer, a 3+2 modular multi-purpose trailer designed and built to efficiently transport a wide array of loads with its three deck options: flat (MFLD), drop side rail (MDSR), and beam (MBMD).
Vice President of Sales Heather Gilmer said the trailer accommodates loads of up to 65 tons in 16 feet as a 3+2 or can be configured with five close coupled axles to transport up to 70 tons in 12 feet. Furthermore, the Magnitude 65 boasts a hydraulic detachable gooseneck and a durable tridem bogie, each offering seven ride height positions. This heightened flexibility proves indispensable for operators navigating heavy loads across obstacles or beneath bridges, she added.
Manufactured using 100,000# minimum yield steel main beam flanges, the Fontaine Magnitude 65 is designed to provide years of strong, dependable service. The flat and beam decks feature a 24-inch loaded deck height, while the drop side rail deck takes it down to 15-inches. At full load, all of the modular decks provide 6-inches of ground clearance. Fontaine also offers a wide variety of vital attachments and components.