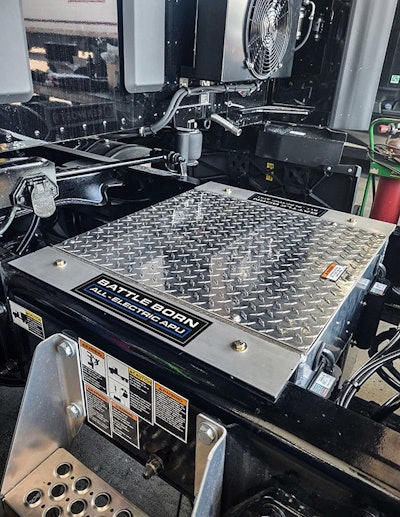 Dragonfly Energy, a supplier of deep cycle lithium-ion batteries has introduced its new Battle Born All-Electric APU (auxiliary power unit).
"As the trucking industry faces stricter regulations, we believe an all-electric APU is a crucial first step in reducing fuel consumption and emissions," said Wade Seaburg, Dragonfly Energy chief revenue officer. "We are entering this growing market and have secured pilot programs with fleets representing roughly 15%of the North American heavy-duty trucking market. We believe this is a significant opportunity for Dragonfly Energy to diversify and grow its revenue while providing a compelling return on investment to fleet operators."
Dragonfly Energy said it has pilot programs underway with companies whose combined fleets include over 65,000 total trucks.
"We've seen positive feedback from our pilot programs, with more programs expected to be initiated soon," said Steven Carlson, original equipment manufacturer product manager at Dragonfly Energy.
The Argonne National Laboratory estimates idling trucks could consume up to one billion gallons of fuel annually, costing upwards of $5 billion in fuel loss. In addition, Argonne estimates that rest period idling results in the emission of approximately 11 million tons of carbon dioxide, 55,000 tons of nitrogen oxide and 400 tons of particulate matter each year.
The Battle Born All-Electric APU allows truckers to operate HVAC, appliances, and other electronics while the truck is off, with zero harmful emissions and no loud engine idling. The unit recharges while the truck is being driven. With one-fifth of the weight compared to traditional lead-acid batteries in the same physical space, the Battle Born All-Electric APU provides more capacity for their payload, the company claims.