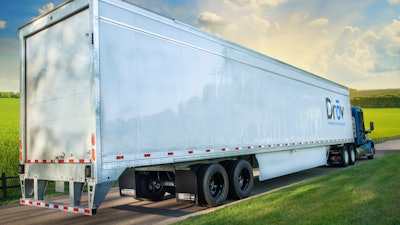 Drōv Technologies, a technology leader in the smart truck and trailer movement, together with Stoughton Trailer introduced its comprehensive smart trailer solution Tuesday during ATA's Technology & Maintenance Council (TMC) Fall Meeting in Cleveland.
Drōv says its new AirBox One platform is designed to integrate smart components and sensors together and uses wired and wireless technologies to flow key operational and safety information directly from the trailer to the fleet and the driver, relaying diagnostics in real time to enhance safety, increase efficiency, reduce maintenance costs and downtime.
"What's unique about the system is its very flexible. We can connect to about anybody's systems," says Drōv's Pete Jankowski. "We try to integrate with all the industry's major players and we serve as the brains flow the data."
Jankowski says the AirBoxOne can read any sensor on the trailer, change and control tire pressure, enable camera setups on the trailer and connects to the driver. It provides tire-pressure monitoring and integrates electronically controlled tire management that inflates and deflates based on load. And AirBoxOne doesn't stop there. Jankowski says the system also connects to cargo and rearview cameras, ultrasonic backup sensors and additional sensor integrations to detect everything from wheel-end temperature and load weight to extreme G-forces, cargo security breaches and advanced brake monitoring.
Through the Vehicle Health Display, the mobile app and the web dashboard, alerts and notifications are wirelessly communicated to the cab and stored in the Cloud, making pre- and post-trip checks easier. CEO Lisa Mullen says the AirBoxOne assists today's drivers and is uniquely positioned for a driverless future.
The system can currently be spec'd by four trailer manufacturers or be retrofitted in approximately four hours to an existing trailer.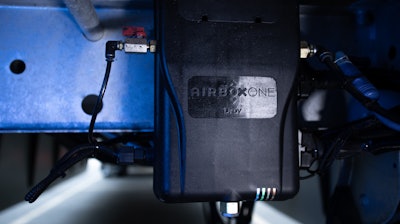 The AirBox One also is unique in bringing to market a first-of-its-kind open and agnostic platform, a central gateway able to connect to a myriad of sensors and integrate with other third-party smart solutions around the trailer. Jankowski says this means fleets can pick and choose how much technology they want to use through the system.
Drōv adds fleets can leverage data acquired by the AirBox One to improve preventive maintenance, increase operational efficiencies and asset utilization, decrease maintenance costs and improve their safety record. Drōv also says the system helps fleets more effectively manage their rolling assets and gain confidence that they are being operated safely on the road.
The company adds the AirBoxOne primarily runs on auxiliary power and has a backup battery and solar charging. These three power sources are redundant to make sure the system can always function. Whether due to a worn-out socket, a bad cable or a blown fuse in the tractor, sometimes auxiliary power is either intermittent or not available. The solar power charges the backup battery in absence