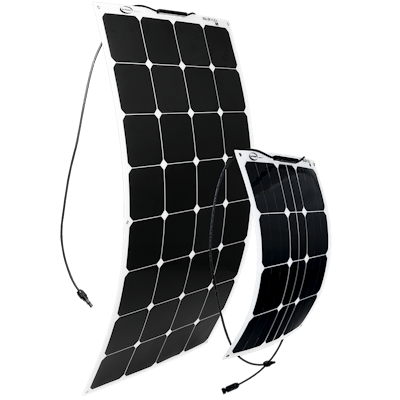 Go Power's Solar Flex GP-FLEX solar-based mobile power and battery regeneration system incorporates thin, flexible, aerodynamic panels and is built for easy installation, requiring no mounting brackets or framework.
The system includes Solar Flex panels with high-efficiency monocrystalline cells, a solar controller that helps prevent battery overcharging, a wire harness system, an EX1050 absorbed glass mat deep-cycle battery bank, a Go Power pure sine or modified sine inverter and heavy-duty AC power outlets that can be located throughout the truck body.
The system is designed to generate up to 100 amps of DC power per hour and, when combined with an inverter, can produce 1,000 watts of AC power per hour. The panels come in 30-, 100- and 200-watt power kits.
For more information, go to https://gpelectric.com/.