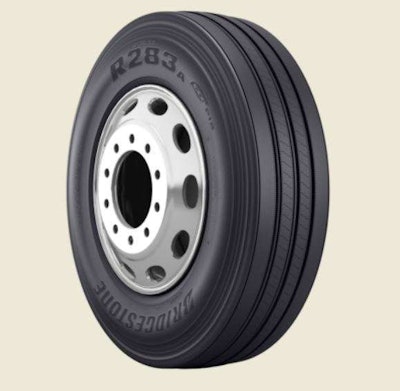 Bridgestone's R283A Ecopia steer tire is suited for long- and regional-haul service and is engineered for added wear life and improved fuel efficiency. The company's proprietary IntelliShape sidewall design uses less bead filler volume to help reduce weight and minimize rolling resistance.
The tire's tread compound is designed to work with the company's NanoPro-Tech polymer technology to help limit energy loss and contribute to longer wear life. A lower cap/base junction helps delay exposure to the base compound and facilitate reduced irregular wear. The R283A also features proprietary Bridgestone technologies such as Fuel Saver Sidewall, Defensive Side Groove and Equalizer Rib.
The tire is available in sizes 295/75R22.5, 285/75R24.5, 11R24.5 and 11R22.5.
Bridgestone Americas, www.ecopiatrucktires.com