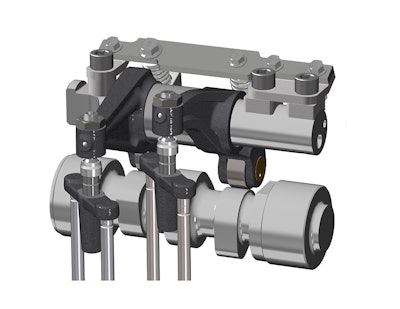 Jacobs Vehicle Systems, a manufacturer of heavy-duty diesel engine retarding and valve actuation systems, will highlight its new Cylinder Deactivation (CDA) technology later this month at IAA in Hannover, Germany.
designed to use the componentry of the company's High Power Density (HPD) engine brake to reduce tailpipe emissions and improve fuel economy, two benefits that traditionally have been mutually exclusive.
Steve Ernest, vice president of engineering and business development for Jacobs, said CDA and HPD are engineered to be modular and to be integrated into an engine individually or together. For CDA, cylinder deactivation mechanisms originally designed for HPD applications are used in the valvetrain to disable the opening of the intake and exhaust valves.
The hydraulically-activated mechanism is integrated in a collapsing valve bridge system for overhead camshaft engines or with a collapsing pushrod system for cam-in-block engines. When this is combined with disabled injection in selected cylinders, the deactivated cylinders act as a gas spring and return the compressed energy of the air back to the crank.
CDA is designed to reduce emissions by achieving higher exhaust temperatures in the operating cylinders, making it possible to maintain aftertreatment temperatures when the engine is in low load operation while also enabling faster warmup of the aftertreatment system after engine startup and minimizing cooling during coasting. According to Jacobs, temperature increases of 100 to 200 degrees Celsius are achieved in low load conditions.
CDA also is designed to simultaneously enable large engines to have the fuel economy of smaller engines because of increased exhaust temperatures for optimal selective catalytic reduction operation; reduced camshaft friction; reduced pumping losses in part-load conditions; and less use of the intake throttle. One, two or three cylinders can be deactivated as needed.