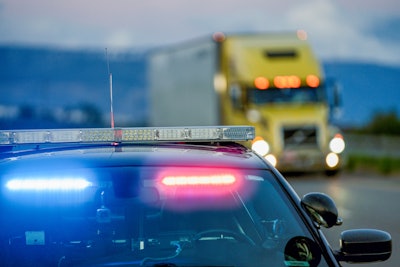 Trucking news and briefs for Friday, April 2, 2021:
New CVSA out-of-service criteria now in effect
This year, updates to the Commercial Vehicle Safety Alliance's annually published North American Standard Out of Service Criteria handbook and smartphone application are few and far between, but they are effective as of April 1. A mere four changes were made, all accessible via this link to a pdf of the CVSA's annual public notice describing the changes for past purchasers of the handbook and others. One has to do with U.S. drivers' hours regs and the past permissibility of previous-generation e-logs, otherwise known as AOBRDs (Automatic Onboard Recording Devices).
A small change to a footnote was made to "make it clear that [an AOBRD] cannot be used in place of a compliant electronic logging device (ELD), when an ELD is required," the notice stated. Some carriers, however, if running exempt from the U.S. ELD mandate, are still allowed to use AOBRD technology to satisfy the record-keeping requirements of the hours of service, "so the footnote could not be completely removed."
Small changes in the same set of footnotes, found in Part 1, Item 9 of the handbook, were also made to revise repetitions of regulations contained therein, aimed at preventing potential roadside inspector confusion.
Two of the changes have to do with the Canadian hours regs – these were technical changes made anticipating the June 12 soft enforcement deadline for the ELD mandate there.
The final substantive change had to do with high-center-mount brake lamps on smaller commercial vehicles. "The amendment was to clarify that an inoperative lamp" of such type "that is required equipment through regulation is considered a critical vehicle inspection item but not considered for out of service purposes," said the notice. "The vehicle would still require at least one brake light in addition to the high center-mounted stop lamp to avoid being placed OOS."
13 carriers selected for NACFE's Run on Less – Electric
This fall, 13 fleets will take part in the North American Council for Freight Efficiency's (NACFE) Run on Less – Electric, a real-world demonstration of zero-emissions goods movement.
The following fleets are helping showcase the benefits and discuss the challenges of electric trucks:
Alpha Baking Co. operating a Workhorse C1000 in Chicago
Anheuser-Busch using a BYD tractor in the Los Angeles area
Biagi Brothers operating a Peterbilt 579EV out of Sonoma, California
Cardenas Inc. using an Xos van in Ventura, California
NFI using a Volvo VNR Electric out of Chino, California
Penske operating a Freightliner eCascadia in Los Angeles
PepsiCo's Frito-Lay Division using a Cummins box truck in Modesto, California
Purolator operating a Motiv-powered step van in Vancouver, British Columbia, Canada
Roush Fenway Racing using a ROUSH CleanTech truck out of Concord, North Carolina
Ruan using an Orange EV terminal tractor in Otsego, Minnesota
Ryder using a Lonestar Specialty Vehicles terminal tractor in Georgetown, Kentucky
SAQ: Quebec Liquor board operating a LION8 truck in Montreal, Quebec, Canada
TBD operating a Lightning eMotors truck in the New York City area
"We are very excited about the mix that these early-adopting fleets represent and how that reflects the current state of electric truck actions across North America," says Mike Roth, NACFE's executive director. "The interest in electric vehicles is spreading across North America as more companies recognize the value of zero-emission solutions."
The three-week event will start on Sept. 3 at ACT Expo in Long Beach and will feature metrics and daily real-world stories on runonless.com. The run's finale will take place at the North American Commercial Vehicle show in Atlanta from Sept. 27-30.
Pilot offering COVID shots to employees
Pilot Company, one of the leading suppliers of fuel and the largest network of travel centers in North America, announced Thursday it will offer a one-time, $75 incentive to team members who choose to get the COVID-19 vaccine. The incentive will be available to all Pilot Company hourly team members, professional drivers and general managers in the U.S. and Canada.
Pilot Company is not mandating any team members to get the vaccine. On the recommendations of federal and state medical experts, Pilot Company encourages team members to get vaccinated based on the advice of their primary care physician.
Autonomous trucking firm Plus lands additional funding
Self-driving truck technology firm Plus (formerly Plus.ai) has added $220 million in new financing co-led by FountainVest Partners and ClearVue Partners, with participation from Quanta Computer Inc., Phi Zoyi Capital, and Millennium Technology Value Partners.
The company's existing investors including Sequoia Capital China, SAIC Capital, and Full Truck Alliance (FTA) also participated. This investment is an extension of the $200 million round announced last month, which was led by CPE and Guotai Junan International.
The company says the additional funding will help it to expand its global operations and commercial deployment plans across the U.S., China, Europe and other parts of Asia for its driver-in autonomous driving solution, PlusDrive. Plus says it is in the final stages of certifying PlusDrive for commercial operation in China.
Mass production for the PlusDrive-powered automated truck jointly developed with truck maker FAW is set to start this summer. Plus is working with some of the largest fleets in the U.S. and China, such as SF Express, China's largest logistics company, to pilot commercial freight operations.