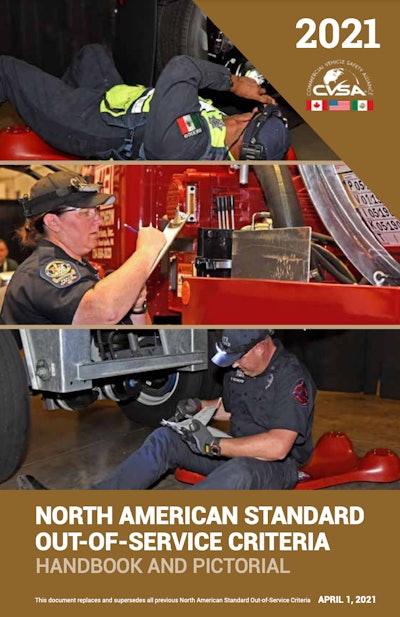 CVSA
An upcoming app from the Commercial Vehicle Safety Alliance (CVSA) is offering some nice perks at a much lower price than CVSA membership.
The 2021 CVSA app will be available soon and Kerri Wirachowsky, director of the Roadside Inspection Program at CVSA, is excited about the additional features their latest app offers.
"It's my new favorite thing," Wirachowsky said following a recent CVSA webinar that offered updates on out-of-service criteria and inspection bulletins (see below). "I don't have to carry around my reg book anymore. I don't have to carry around my out-of-service criteria. It's there at my fingertips. All of the inspection bulletins are on there. Everything is on there."
"Everything" includes access to all CVSA videos, which normally are reserved for members on their website. Annual dues for CVSA membership range from $550 to 1,050.
"There's things that we've made accessible through the app that only membership theoretically has that can be accessed by people who aren't members as well. And it's cheaper. $24.99," Wirachowsky said.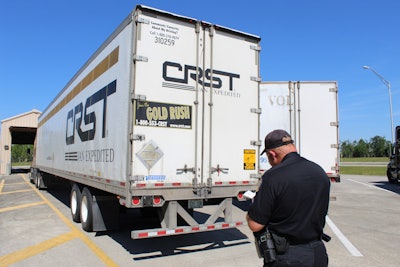 Course work through the CVSA learning portal can be completed on the go through the app even if it's not completed in one sitting. The new app should be available "very shortly," Wirachowsky said.
CVSA has also "drastically changed" its website, Wirachowsky said during the webinar last Wednesday. Translating the site has become as easy as clicking on English, Spanish or French.
"I think it's fantastic," she said from her home in Canada where she demo'd the site through Zoom. "I'm happy that we have a website now that will serve people who speak English, French and Spanish."
There's now a Letters, Petitions and Comments tab on the bottom of the home page of the website "and if you click on the petition for consideration then you will get that petition so you can read our petition letters, know what's in them, know what the alliance is asking of any agency in regard to a specific issue that you may be interested in," Wirachowsky continued.
"I think it has a better look and feel and I think you can get around it easier," she said. "So take the time to give it five or ten minutes and poke around on there and see what additions have been made."
Updates on out-of-service criteria
Because of COVID-19, the first big change for the 2021 North American Standard Out-of-Service Criteria Handbook and Pictorial is a new cover.
Like so many other events last year, CVSA's 2020 North American Inspectors Championship was cancelled because of concerns over the coronavirus pandemic. With no 2020 champion to feature on the cover of this year's handbook, CVSA opted to place the three top inspectors from the U.S., Canada and Mexico who competed in the 2019 championship.
Other changes for the handbook include amendments to four out-of-service (OOS) criteria, three of which address driver's record of duty status in the U.S. and Canada and one which applies to a third brake light required on vehicles below 10,000 pounds. Unless otherwise noted, OOS updates take effect April 1 with the new 2021 CVSA handbook.
According to CVSA, OOS criteria for Driver's Record of Duty Status in the U.S. was amended "to make it clear that an automatic onboard recording device (AOBRD) cannot be used in place of a compliant electronic logging device (ELD), when an ELD is required."
Carriers that are exempt from ELDs may still choose to use AOBRDs.
The Driver's Record of Duty Status OOS criteria in Canada was amended to include a terminology change "from daily log to record of duty status." Some provinces and territories will continue to use the 'daily log' terminology.
The ELD requirement in Canada is effective June 12, 2021. Non-ELD compliance will not necessarily result in an OOS violation as noted in an additional amendment.
"Region V (Canada) felt that it was necessary to add [a sixth footnote] to indicate that a driver in Canada who is found without an ELD but is still completing another form of a RODS will currently not be placed out of service (OOS)," the CVSA OOS criteria states.
The final OOS criteria update addresses high center-mount brake lamps which are required on some smaller vehicles in both the U.S. and Canada. According to CVSA, "This amendment was to clarify that an inoperative center high-mounted stop lamp that is required through regulation is considered a critical vehicle inspection item but not considered for OOS purposes; therefore, the vehicle would still require at least one brake light in addition to the high center-mounted stop lamp to avoid being placed OOS."
Updates on inspection bulletins
Updates for inspection bulletins were provided for the Securement of Roll-on/Roll-off, Hook-lift and Lugger Containers on Vehicles; Unified Carrier Registration (UCR) Agreement Enforcement Bulletin for 2021 Registration Year; and Transportation of the COVID-19 Vaccine.
For roll-on/roll-off, hook-lift and lugger containers the inspection bulletin addresses units with and without integral securement systems. For units without integral securement systems "other means of securement are required to prevent the container from becoming dislodged or moving to the extent that the vehicle's stability and maneuverability is adversely affected."
The Unified Carrier Registration (UCR) Agreement bulletin provides guidance for verifying compliance with the UCR Agreement during a roadside inspection and encourages roadside enforcement for the 2021 registration year, effective Jan. 1, 2021.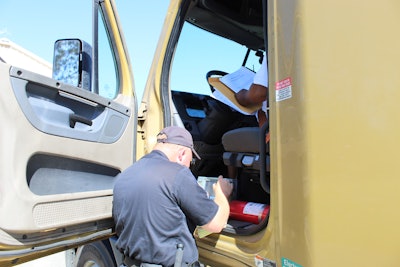 The following 41 states are participating in UCR for the 2021 calendar/registration year and serve as UCR base states: Alabama, Alaska, Arkansas, California, Colorado, Connecticut, Delaware, Georgia, Idaho, Indiana, Illinois, Iowa, Kansas, Kentucky, Louisiana, Maine, Massachusetts, Michigan, Minnesota, Mississippi, Missouri, Montana, Nebraska, New Hampshire, New Mexico, New York, North Carolina, North Dakota, Ohio, Oklahoma, Pennsylvania, Rhode Island, South Carolina, South Dakota, Tennessee, Texas, Utah, Virginia, Washington, West Virginia and Wisconsin.
Inspection guidance for COVID-19 vaccine transportation includes information on dry ice and lithium batteries, both of which are used in transporting the vaccine and are exempted from hazardous materials regulation.
"If you haven't gone through that course (on COVID-19 transportation), take that course as well," Wirachowsky said.
Below is an excerpt from a 2021 update for the CVSA inspection bulletin on Securement of Roll-on/Roll-off, Hook-lift and Lugger Containers on Vehicles.