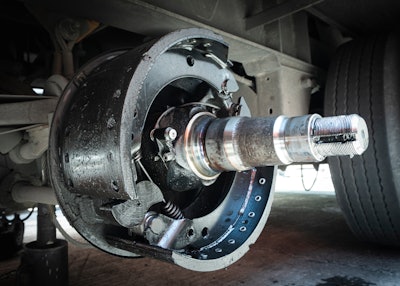 Trucking news and briefs for Thursday, May 20, 2021:
Brake Safety Week planned for late August
Commercial Vehicle Safety Alliance (CVSA) has scheduled its annual Brake Safety Week for Aug. 22-28.
During Brake Safety Week, commercial motor vehicle inspectors conduct inspections and remove from service trucks found to have brake-related out-of-service violations. Prior to the event, CVSA encourages motor carriers to educate drivers and maintenance service providers on the importance of brake system safety.
Throughout the week-long campaign, inspectors will conduct North American Standard Inspections of commercial motor vehicles, focusing on the vehicle's brake systems and components. In addition, inspectors will compile data on brake hoses/tubing – the focus area for this year's Brake Safety Week.
Brake system and brake adjustment violations accounted for more vehicle violations than any other vehicle violation category, accounting for 38.6% of all vehicle out-of-service conditions, during 2020's three-day International Roadcheck inspection and enforcement initiative. Brake-related violations accounted for eight out of the top 20 vehicle violations in 2020, according to FMCSA's Motor Carrier Management Information System.
"Brake system" was the third most cited vehicle-related factor in fatal commercial motor vehicle and passenger vehicle crashes, according to the Federal Motor Carrier Safety Administration's (FMCSA) latest "Large Truck and Bus Crash Facts" report.
During last year's Brake Safety Week, 12% of the 43,565 commercial motor vehicles inspected were placed out of service for brake-related violations.
LSO Final Mile rebranding to original name
Custom logistics, e-commerce and final mile delivery company LSO Final Mile announced Wednesday it has rebranded the company and reclaimed its original name, Express Courier International.
The name change comes after LSO's partner company, Lonestar Oversight, was acquired by WeGo Logistics in the fourth quarter of 2020. The name change is effective immediately.
The company says the change represents its renewed focus on exceptional customer service, expertise in driving innovations needed to shape the future of final mile through digital technology solutions and its expansion into e-commerce delivery. To coincide with the rebrand, Express Courier International launched a new website, reflective of the new brand, visual identity, and improved customer interface.
Prime opens new recreational building at Salt Lake City terminal
Prime Inc. (CCJ Top 250, No. 14) recently opened a new 61,000 square-foot building at its Salt Lake City terminal to provide improved amenities for its driving and non-driving associates.
The new building features a number of amenities, including a salon, spa, daycare, gym, private bunk rooms, basketball court, healthcare, lounge and a cafe serving 2,500 meals each week.
At the new building, Prime associates have access to healthcare and a sleep lab. In addition, associates can work out with a personal trainer for free. As part of the company's wellness program, trainers also provide customized workouts to keep truck drivers active while on the road.
Prime has similar amenities buildings in Springfield, Missouri, and Pittston, Pennsylvania.
Southeastern Freight opens relocated service center in Texas
LTL giant Southeastern Freight Lines (No. 31) has opened a relocated service center in Amarillo, Texas, that expands the company's services in the region.
The new service center features 33 dock doors and 22 workers. It sits on more than five acres, allowing for future growth, and features a large office space.
The previous location had 22 dock doors and 4 workers.