Trucking news and briefs for Thursday, July 8, 2021:
Tropical Storm Elsa prompts HOS waivers in Florida, Georgia
In preparation for a major storm making landfall, Florida Gov. Ron DeSantis and Georgia Gov. Brian Kemp this week issued emergency declarations, suspending hours of service regulations for haulers providing direct assistance to any emergency related to the storm.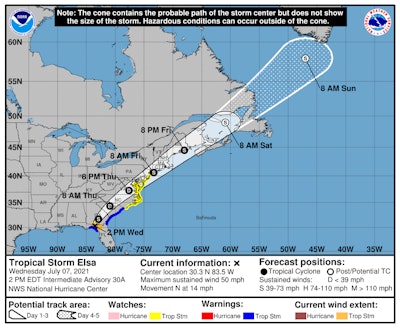 The waiver in Florida applies to carriers in 27 counties in the state – Alachua, Charlotte, Columbia, Citrus, Collier, Dixie, Franklin, Hamilton, Hernando, Hillsborough, Gilchrist, Jefferson, Lafayette, Lake, Lee, Levy, Madison, Manatee, Marion, Monroe, Pasco, Pinellas, Sarasota, Sumter, Suwannee, Taylor and Wakulla counties.
Georgia's declaration is effective in 92 counties across the southern and eastern parts of the state. The full list of counties can be seen in the emergency declaration.
Georgia's declaration is set to expire July 14, while Florida's will expire Aug. 2.
Tropical Storm Elsa made landfall Wednesday morning in northwest Florida after weakening from hurricane status overnight Tuesday. As the storm moves inland, it is expected to travel up the Southeast coast, bringing heavy rain and winds to parts of Georgia, South Carolina, North Carolina and Virginia.
Three major European OEMs partner to develop EV infrastructure
Volvo Group, Daimler Truck and the Traton Group have signed a non-binding agreement to install and operate a high-performance public charging network for battery-electric heavy-duty long-haul trucks across Europe.
The goal of the partnership is to initiate and accelerate the build-up of charging infrastructure in Europe.
The agreement lays the foundation of a future joint venture (JV) – equally owned by the three parties, planning to start operations in 2022. The parties intend to invest together 500 million Euros to install and operate at least 1,700 high-performance green energy charging points close to highways, as well as at logistic and destination points, within five years from the establishment of the JV.
The future JV is planned to operate under its own corporate identity and be based in Amsterdam, Netherlands. The future JV will be able to build on the broad experience and knowledge of its founding partners in heavy-duty trucking.
Fuel prices hit highest average since late 2018
Diesel prices across the United States hit the highest national average in two-and-a-half years during the week ending July 5, according to the Department of Energy's weekly report.
The U.S.' average price for a gallon of on-highway diesel now stands at $3.331, up 3.1 cents over the previous week. The last time prices were higher was during the week ending Nov. 5, 2018, when prices averaged $3.338 per gallon nationwide.
During the most recent week, the most significant increase was seen in the Rocky Mountain region, where prices jumped by 8.3 cents.
The nation's most expensive diesel can be found in California at $4.185 per gallon, followed by the West Coast less California region at $3.55 per gallon.
The cheapest fuel can be found in the Gulf Coast region at $3.076 per gallon, followed by the Lower Atlantic region at $3.204 per gallon.
Prices in other regions, according to DOE, are:
New England – $3.242
Central Atlantic – $3.475
Midwest – $3.264
Rocky Mountain – $3.516
ProMiles' numbers during the same week saw fuel prices increase by 1.9 cents, bringing its national average to $3.241 per gallon.
According to ProMiles' Fuel Surcharge Index, the most expensive diesel can be found in California at $4.079 per gallon, and the cheapest can be found in the Gulf Coast region at $3.028 per gallon.
HHG company owners plead guilty to federal fraud charges
Michael and Yarin (Joe) Nadel pleaded guilty on June 24 to conspiracy to commit wire fraud after allegedly defrauding customers of various New York-based household goods moving companies.
The Nadels reportedly owned and operated State to State Moving NY, Inc.; Green Peace Transportation, LLC; Around the Clock Moving Services, Inc., and other moving companies.
The pair allegedly defrauded customers – directly or through brokers ­– by misrepresenting the estimated charges for their moving services. They then extorted customers by refusing to return or threatening to sell or auction customers' goods unless they received more money.
In addition, they allegedly submitted falsified information to the Federal Motor Carrier Safety Administration by failing to disclose affiliations with other motor carriers whose operating authority had been revoked or suspended by FMCSA.