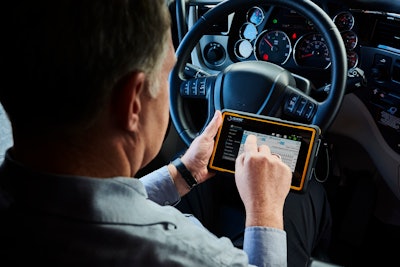 ISAAC Instruments and Trimble have separately announced formal third-party certification of their electronic logging device solutions for use under Transport Canada's ELD mandate . The companies are just the fifth and sixth to receive certification by an accredited third-party company that verifies compliance with the mandate's technical standards. Specifically, the certifications awarded by FPInnovations apply to Trimble's eDriver Logs ELD software when paired with the PeopleNet Mobile Gateway, and ISAAC Instruments' InMetrics Series 2 telematics data recorder and wireless router.
Canada's ELD mandate went into effect June 12, but provinces and territories are not yet enforcing the rules due to the challenges related to the COVID-19 pandemic, and because no ELD was certified by a third party prior to the implementation date. Instead, progressive enforcement is being phased into law over a 12-month period.
The rule applies to nearly all truck drivers operating in Canada, including those crossing the border from the United States. The regulation, which is similar to the mandate already in place in the U.S., aims at reducing the risk of fatigue-related collisions. In the U.S., ELD manufacturers are allowed to self-certify their devices, with the Federal Motor Carrier Safety Administration (FMCSA) maintaining a list of registered devices. Carriers are ultimately responsible if their ELD malfunctions.
Under the terms of Canada's Commercial Vehicle Drivers Hours of Service Regulations, all ELDs must be tested and certified by accredited certification bodies to ensure that they conform to the requirements of the regulation, including devices used by U.S.-based fleets crossing the border.
ISAAC claims its certification brings 25% of Canadian trucking fleets into compliance with the ELD mandate, including 40% of large Canadian carriers.
"ISAAC is proud to be included on Transport Canada's list of certified electronic logging devices," said Jacques DeLarochelliere, CEO, chairman and co-founder. "We serve an essential-service industry and recognize that ISAAC's technology is mission-critical for carrier operations."
Other ELD solutions providers that already received third-party certification in Canada's ELD registry include Hutch Systems (Hutch Connect ELD), Diesel Tech Industries (Guardian ELOG). Pedigree Technologies (Cab-Mate One) and Assured Tracking (apollo ELD).