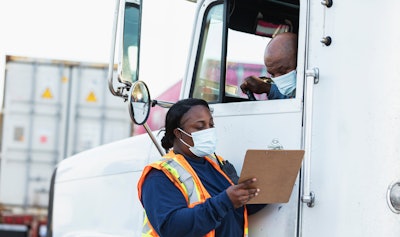 American Trucking Associations (ATA) President and CEO Chris Spear on Thursday submitted to the White House a formal request that truck drivers be exempt from President Joe Biden's looming vaccine and COVID testing mandate.
Occupational Safety and Health Administration (OSHA) last week sent its vaccine mandate recommendation, the details of which have not been made public, for review. Spear said his group has been in "constant communication" with administration officials to convey its "serious concerns over the impact such a policy will have on the trucking industry and our ability to keep the nation's supply lines moving."
Spear penned the letter to Sharon Block, acting administrator of the Office of Information and Regulatory Affairs – the White House office responsible for reviewing the draft Emergency Temporary Standard (ETS) before it can go into effect.
Spear asked that truck drivers be exempt from the ETS, like Canada has done in its national vaccine mandate, and "deferring coverage of truck drivers to the traditional regulating agency with transportation expertise rather than OSHA, "or alternatively deferring coverage of truck drivers to the traditional regulating agency with transportation expertise rather than OSHA."
[Related: Biden announces major supply chain shakeup for ports, carriers and retailers]
The Canadian government this summer announced plans to require COVID-19 vaccinations for its transportation sector but did not include the trucking industry.
Spear also sought assurance that fleets holding federal contracts would not be subject to overlapping, contradictory requirements. "Federal contractors that implement the vaccine mandate required in Executive Order 14042 should not have to comply with a second set of OSHA rules – those that implement the E.O. 14042 mandate should be deemed compliant with the OSHA ETS and ideally vice versa to avoid overlapping and contradictory requirements," he wrote.
Spear also asked for a reasonable implementation deadline of at least 90 days.
"While much of the country was sequestered in their homes, the trucking industry served its essential function and did so successfully with safety standards developed by public health experts. Now placing vaccination mandates on employers, which in turn force employees to be vaccinated, will create a workforce crisis for our industry and the communities, families and businesses we serve," Spear wrote. "In fact, should OSHA and the leadership of the federal task force on COVID continue on the paths they are on, the nation's motor carriers – who exclusively supply 80% of the country and move 70% of all US freight tonnage – could lose up to 37% of their drivers to retirements, attrition to smaller carriers and/or conversion to independent contractor owner-operators."
Spear said ATA was prepared to take legal action if its concerns were not heeded in a final rule, and it isn't alone in potentially taking the fight to the courtroom. Truckload Carriers Association Chairman Jim Ward said in an email to members last week that his group "remains committed to expressing the viewpoints of our industry on this issue, focusing on the dramatic change it could have on our driving force and exorbitant impact it would have on capacity in an already tight market. As such, we continue to stress the impractical demands that such a rule would have on our segment of the industry, especially for the drivers operating in an irregular route environment.
"As the rule continues its progress towards publication in the Federal Register, we remain committed to stating our apprehensions and concerns over this mandate and the effects it will have on our industry," Ward wrote.
There is no timeline for OMB to finish its review, but it's likely to be within the next few weeks. In the meantime, ATA has prepared a toolkit, including frequently asked questions, to help fleets and employees better understand the topic and rulemaking process.