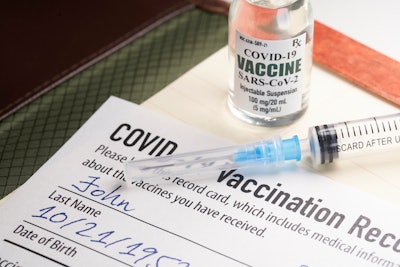 The Occupational Safety and Health Administration (OSHA) on Tuesday said it is withdrawing its vaccine-or-test emergency temporary standard, which the U.S. Supreme Court effectively shelved Jan. 13. The withdrawal will be effective Jan. 26.
OSHA was seeking mandatory COVID-19 vaccines or weekly testing for companies with 100 or more employees, but earlier this month SCOTUS ruled the Secretary of Labor lacked the authority to issue such a mandate, even through the OSH Act's emergency temporary standard exemption.
"We successfully challenged this misguided mandate all the way to the U.S. Supreme Court, because it was a clear overstep of OSHA's authority, and because it would have had disastrous consequences for an already-overstressed supply chain," American Trucking Associations President and CEO Chris Spear said via statement Tuesday. "The Supreme Court bounced it, and we are pleased to see the agency has now formally withdrawn it, sending this ETS to the dustbin where it belongs."
Notwithstanding the withdrawal of its Vaccination and Testing ETS, OSHA said it continues to strongly encourage the vaccination of workers against the continuing dangers posed by COVID-19 in the workplace.
David Heller, Truckload Carriers Association vice president of government affairs, noted that in its withdrawal, OSHA stated that the rule will remain "proposed" in nature, indicating that they could pursue other COVID-related options as they pertain to ensuring safe and healthful working conditions.
"Following the Supreme Court's decision to stay the rule, TCA is pleased at the withdrawal of the ETS by OSHA so that our industry can continue to deliver our nation's freight safely and efficiently," Heller said. "Operating in a time where the supplies delivered by our nation's trucking community remain essential to our daily lives, it is imperative that our driving force maintains the ability to operate unimpeded by rules that would seek to diminish the country's shipping capacity."
OSHA on Nov. 5 adopted the emergency temporary standard to protect unvaccinated employees of large employers (100 or more employees) from the risk of contracting COVID-19 by strongly encouraging vaccination. The ETS required covered employers to develop, implement and enforce a mandatory COVID-19 vaccination policy, with an exception for employers that instead adopted a policy requiring employees to either get vaccinated or elect to undergo regular COVID-19 testing and wear a face covering at work in lieu of vaccination.
The ETS was challenged almost immediately with the Fifth Circuit Court of Appeals granting a stay, essentially pausing implementation. The Sixth Circuit in December overturned the Fifth Circuit and re-implemented the ETS, setting it on a path to the Supreme Court.
While SCOTUS's ruling was a blow to the mandate, it wasn't a death blow. However, OSHA's formal withdrawal of its ETS effectively puts the issue to bed.
Just before the Supreme Court's ruling, OSHA had already amended its FAQ to clarify that the majority of truck drivers would not be covered by the mandate.
In the new section posted in the FAQ, OSHA clarified that while there is no specific exemption for truck drivers, the ETS does "not apply to employees 'who do not report to a workplace where other individuals such as coworkers or customers are present' or employees 'who work exclusively outdoors.'"
The FAQ goes on to say that truck drivers who do not work in a team operation with another driver in the cab and who only encounter other individuals in outdoor environments are not included in the ETS.
Additionally, OSHA noted that minimal use of indoor facilities where other people may be present, such as using a multi-stall bathroom or entering an administrative office to drop off paperwork "does not preclude an employee from being covered by these exemptions, as long as time spent indoors is brief."
The withdrawal follows the recent Supreme Court's decision to stay the order based upon their opinion that OSHA did not have the regulatory authority to implement the ETS.