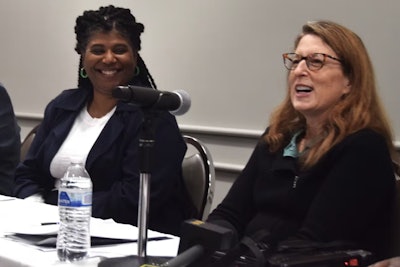 Overdrive
President Joe Biden on Wednesday formally nominated Robin Hutcheson for Administrator of the Federal Motor Carrier Safety Administration (FMCSA).
Transportation Secretary Pete Buttigieg appointed Hutcheson Deputy Administrator in late January following the departure of Meera Joshi. As deputy administrator, she also served as the Acting Administrator. FMCSA hasn't had a full time administrator since Ray Martinez, who stepped down from the post in October 2019. The job has since been held by Jim Mullen, Wiley Deck, Joshi and Hutcheson, each as acting administrator.
Hutcheson's nomination still must be confirmed by the Senate. Joshi last October was overwhelmingly confirmed to take on the role full time by the U.S. Senate Committee on Commerce, Science and Transportation but had not yet been confirmed by the full Senate prior to her departure in January to serve as the deputy mayor for operations for New York City.
Joshi's confirmation also had wide support among trucking stakeholders, and those same agencies Wednesday backed Hutcheson.
American Trucking Associations President and CEO Chris Spear said ATA supports her "swift confirmation by the Senate," citing her deep experience in transportation administration. "Her commitment to working with our industry to improve safety is unwavering. Her continued leadership comes at a critical time for the agency, as the pandemic, natural disasters, workforce shortages and other factors continue to challenge the freight economy in ways never seen before," he added. "America's trucking industry is the backbone of our economy, and we depend on partners in government who value data and stakeholder input to meet real-world needs and ensure the safe movement of freight across our nation's highways. That's particularly timely now, as DOT works to implement the Bipartisan Infrastructure Law, which will strengthen highway safety standards while helping our industry meet the nation's growing freight demands."
Similarly, the Truckload Carriers Association (TCA) applauded Hutcheson's nomination, noting she is "well equipped with extensive experience drafting and implementing transportation policy."
"TCA has always greatly valued its positive working relationship with FMCSA and its leadership," said TCA President Jim Ward. "Our collaboration is more important than ever, as the trucking industry has demonstrated its essential status during these unprecedented times. The pandemic and labor shortages have disrupted supply chains and challenged industry, but trucking has remained relentless in our efforts to move America forward. With the nomination of Deputy Administrator Hutcheson, we feel the industry is even better positioned to tackle these challenges."
Owner-Operator Independent Drivers Association President Todd Spencer, citing Hutcheson's "genuine appreciation for the work of our members and an eagerness to help address some of the issues that are most important to them," said OOIDA was looking forward to working with her as Administrator "to promote our shared goals of supporting the men and women who make their living behind the wheel of a heavy vehicle while improving highway safety for all road users."
Since January 2021, Hutcheson had served as the deputy assistant secretary for Safety Policy for the U.S. Department of Transportation in the Biden-Harris Administration. In this role she led safety policy for the department, and coordinated COVID-19 response and recovery. She was instrumental in the development of the Bipartisan Infrastructure Law, especially the new Safe Streets and Roads for All program.
Before being appointed to the Biden-Harris Administration, she was the director of public works for the City of Minneapolis overseeing a team of 1,100 people across nine divisions including drinking water, surface waters and sewers, solid waste and recycling, fleet management, and all transportation functions.
Before that, she served as the transportation director for Salt Lake City, working to improve all modes of transportation.
She also has served as a consultant specializing in transportation and transit and has worked throughout the western United States, in London and France, and for the European Union Commission on Sustainability.
Hutcheson served for seven years on the board of directors for the National Association of City Transportation Officials, most recently serving as its president.